Ashes 2015: Pitch selection plays into Australia's hands

By Jonathan Agnew
BBC cricket correspondent
Last updated on .From the section Cricket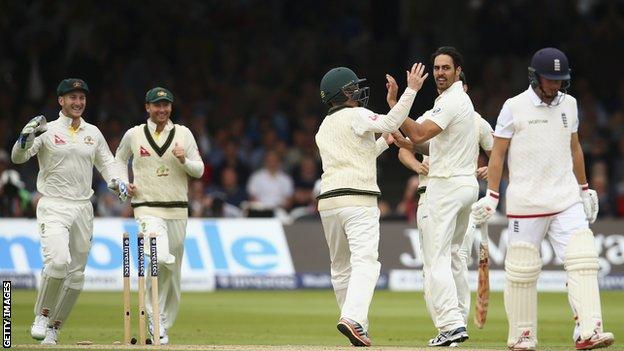 After their travails in Cardiff, Friday was the day when Mitchell Johnson and Mitchell Starc truly bared their teeth.
Bowling full, fast and with just a hint of swing on a pitch that was still as benign as when England bowled on it, they blew away the top order to leave the hosts in a desperate position on 85-4, still 282 runs short of avoiding the follow-on.
With runs behind them, Johnson and Starc were different bowlers from Australia's 169-run defeat in Wales.
They could just hurtle in, safe in the knowledge that if they bowled the odd bad ball that got hit for four it wouldn't matter.
Johnson was at his devastating best. You can always tell when he's bowling well because his arm is high, enabling him to bowl fast and straight.
When his arm is low and he's slinging it, he bowls to the left and to the right. There is no better sight in the game than watching a bowler rushing in and bowling as fast as he can. It's not subtle, but it's raw and a great watch.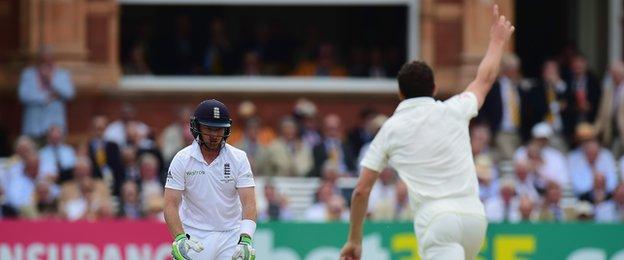 From a batsman's perspective, it's horrible, especially when you are replying to such a massive score. You have people steaming in, everyone behind the wicket in catching positions oohing and aahing. It makes you anxious and you bat in a more tentative way.
That said, England did not help themselves with some poor shot selection.
Adam Lyth played a heavy-footed drive and was caught behind. Ian Bell got a good ball but by closing the face of his bat to hit through midwicket he didn't really give himself a chance.
Credit to Alastair Cook and Ben Stokes for putting up a fight in the closing stages to avoid any further damage and reach 85-4, but once again you have to question the wisdom of England asking for this kind of pitch.
I just don't see the point in preparing wickets that render your own bowlers largely innocuous.
Ex-England batsman Geoffrey Boycott on Test Match Special
"England could have done a lot better with the bat. You do have heavy legs and your mind is tired after a long time in the field but you need better application and discipline. You really want to make them bowl to you. Leave as much as you can.
"Steve Smith went on in his uncomplicated way and England haven't worked out the best way to bowl at him. He's gone quietly along playing in his own style and never looked in too much trouble."
Truly fast bowlers can be effective on any pitches. Have a look at some clips of Michael Holding bowling in India on the slowest pitches of all time and he's blowing stumps all over the place.
If you are quick through the air and you bowl full, it doesn't matter what the pitch is like.
But Stuart Broad, Ben Stokes, James Anderson and Mark Wood don't have the pace of a Johnson or a Holding. They need a bit of help from the wicket.
In Cardiff they had it, but this pitch gave them absolutely nothing and they suffered as a result.
If England really want to take Australia on they need pitches that allow a little bit of movement off the seam. They should produce pitches that suit them in a positive way than trying to nullify the opposition.
Bowling to Smith and Rogers is tough
Australia's huge total was founded on two exceptional innings by players who must be a nightmare to bowl to.
Chris Rogers, who recovered from an early blow on the head to make 173, hardly moves his front foot so it must be very tempting to bowl full and wide outside off stump to him in the hope of getting him caught at gully or point.
He is very static when he drives, but because his weight is moving towards the ball, his momentum is going forward and he usually manages to keep the ball on the ground.
Steve Smith, who scored Australia's first Lord's double hundred since Bill Brown in 1938, is an even trickier proposition.
People who move around in the crease put bowlers off their lines and lengths. You run in to bowl and they are in one place, you let the ball go and they're in another.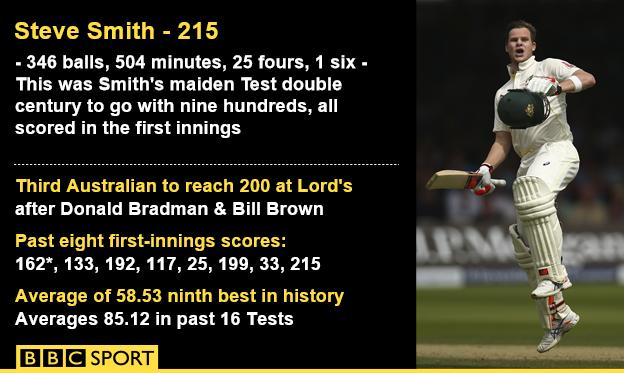 I used to hate bowling to Kim Barnett at Derbyshire because he never kept still. Derek Randall and Dennis Amiss were similar.
I think England's best approach early on to Smith is to bowl straight because anyone can miss a ball.
Rather than simply bowling for caught behinds, as England seemed to be doing, I think they should bowl at the stumps with men on the leg side.
Once he's in you can mix it up a bit and try to find the edge, but as he showed on Thursday and Friday, he has a wonderful eye for the ball and a range of terrific shots. He is unorthodox and unusual, but mighty effective.
The brilliant batting of Smith and Rogers, allied to some expert fast bowling, has left England staring down the barrel. Australia will fancy themselves to level the series from here.