Women's Ashes: Charlotte Edwards, barbecue and banter
Last updated on .From the section Women's Cricket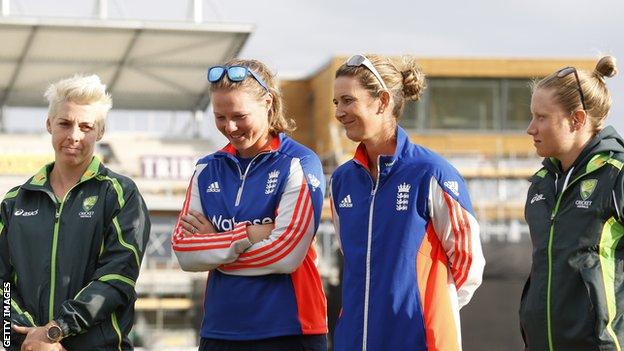 Women's Ashes on the BBC
Dates:
19 July - 31 August
Coverage:
BBC Radio 5 live sports extra commentary of all three ODIs (21, 23, 26 July) plus daily commentary of the four-day Test (11-14 Aug). T20 coverage (26, 28, 31 Aug) TBC.
You would not expect the Ashes to be launched with both teams sharing a friendly barbecue three days before the first ball is bowled.
The two-hour free public event was held at Somerset's ground in Taunton, which will host the first one-day international of the seven-match series on Tuesday.
More than 200 children and their parents met players from both sides before a humorous and revealing question and answer session was held.
Many of the players, who have faced each other during fierce battles over many years, were able to meet up for the first time this summer in this laid-back setting.
Plenty of girls as young as three were given the opportunity to practise batting, bowling and fielding drills alongside their idols.
And the enlightening Q&A gave a chance for those not acquainted an insight into the Women's side.
England captain Charlotte Edwards revealed that she played her first international match in a skirt before talking about the changes in the women's game.
Edwards also took the opportunity to get her own back on team-mates Heather Knight and Laura Marsh after they questioned the 35-year-old's dance moves on Twitter,
"Heather's dress sense is terrible," she said. "Laura's pretty bad at singing and dancing so I don't know what she's on about."
The light-hearted probing of the Australian side saw wicketkeeper Alyssa Healy, Australian fast-bowler Mitchell Starc's other half, asked who was the better player.
"Probably me," Healy said after a moment's hesitation. "I did get my baggy green first so I have the bragging rights."
Women's Ashes: England v Australia 2015

Date

Game

Venue

Pts for win

Pts for draw

21 Jul

1st ODI

Taunton

2

1

23 Jul

2nd ODI

Bristol

2

1

26 Jul

3rd ODI

Worcester

2

1

11-14 Aug

Test

Canterbury

4

2

26 Aug

1st T20

Chelmsford

2

N/A

28 Aug

2nd T20

Hove

2

N/A

31 Aug

3rd T20

Cardiff

2

N/A

In the event of a tie in the T20 internationals, a super over will be played
Healy, who is former Australian wicketkeeper Ian Healy's niece, added: "I never really wanted to play cricket, I was heavily into other sports but I got thrown the gloves at the age of 10 and I've stuck with it ever since."
Somerset CEO Guy Lavender confirmed that more than 1,400 tickets had already been sold for the first match and a crowd of more than 3,000 was expected.
England will be looking to retain the Women's Ashes and Edwards said that as soon as the teams crossed the white line on Tuesday, friendships and niceties would be put to one side.
"There is pressure on both teams to perform," Edwards said. "Both sides desperately want to win and it's going to be one hell of a series."