Mark Footitt: Derbyshire fast bowler keen to 'kick on'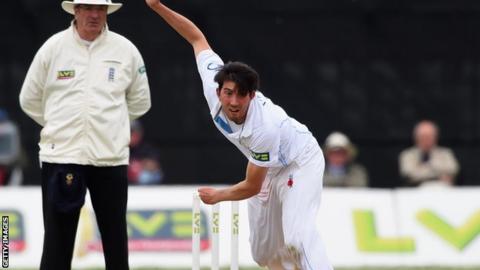 Derbyshire fast bowler Mark Footitt says that he is keen to "kick on" after reaching 50 wickets for the season.
The 29-year-old reached the landmark in Derbyshire's win over Northamptonshire last week, taking 5-41 and 2-73.
Footitt told BBC Radio Derby: "It's a great personal achievement, but it can't be done without having a decent bowling attack with you."
The England hopeful was involved in the 14-man pre-Ashes training squad in Spain last month.
The left-arm bowler said that training work on his bowling has helped him match his 50-wicket milestone from last season.
Footitt's tally of 82 wickets was the highest in the County Championship last year.
"I had a bit of trouble with no balls, so I worked on that," he said. "I also was trying to get my toe touching the line instead of my foot going over the line.
"As soon as we worked that out, it made me concentrate on where I needed to bowl the ball."
When asked about aspirations for personal figures for the season, Footitt said: "It's not about yourself, it's about the team. I take wickets for the team, not for myself.
"Bowlers are a unit and that's what we pride ourselves on."