Lancashire: Petersen & Prince 'weren't sure' about records
Last updated on .From the section Cricket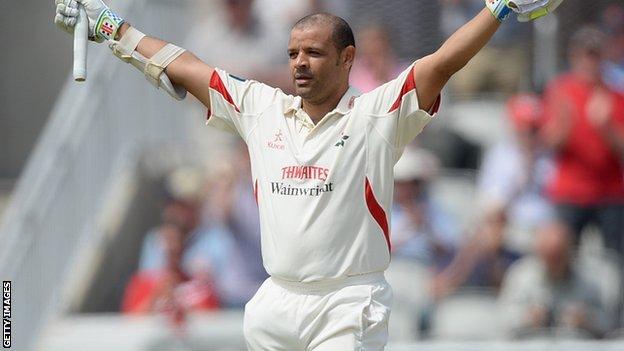 Lancashire batsman Alviro Petersen says he and Ashwell Prince were unaware of the records they were breaking during their 501-run stand against Glamorgan.
The South Africans' partnership surpassed Lancashire's previous best of 371, which had stood for 87 years.
Prince, 37, and Petersen, 34, set five records in total as they became the 13th pair to be involved in a 500-run stand in first class cricket.
"We weren't sure what was happening," Petersen told BBC Radio Lancashire.
"I knew it [the highest partnership record] was something like 371 so we knew we were close - but then the crowd started clapping three times before 371.
"To finally reach the highest partnership was obviously great."
Both Petersen and Prince, who delayed his retirement this summer to return to Lancashire for one more season, made the highest scores of their careers before the Red Rose declared on 698-5.
"I think we both enjoyed each other's milestones and it was just a pleasure to be part of it," Prince added.
"It's satisfying for me to know that I can still produce what is my career-best score in my last season."
Petersen and Prince's historic stand
Lancashire's highest third-wicket partnership (previous best 364)
Lancashire's highest partnership for any wicket (previous best 371)
Highest partnership for any wicket against Glamorgan (previous best 401)
Petersen's career-best score of 286 (previous best 210)
Prince's career-best score of 261 (previous best 257 not out)