Ravi Bopara: Essex all-rounder says first over was 'game-winning'
Last updated on .From the section Cricket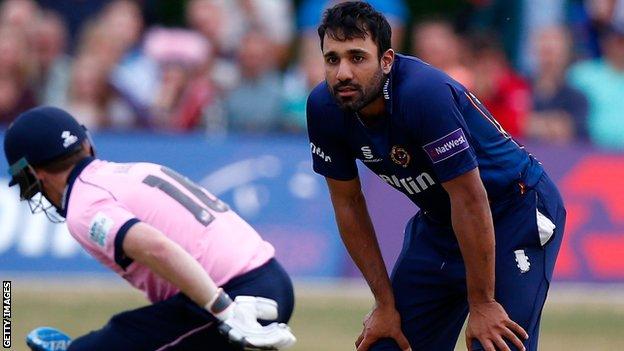 Essex and England all-rounder Ravi Bopara says bowler Reece Topley's first over was the "game-winning moment" of their One-Day Cup win over Lancashire.
Topley dismissed Ashwell Prince with the third ball of the match as Essex recorded a seven-wicket victory.
Bopara starred at Chelmsford on Monday, taking 4-31 with the ball before scoring 101 not out with the bat.
"I think the game-winning moment for us was Reece's first over. He got the first punch in," Bopara told BBC Essex.
"It's the only way you can describe it, and after that I think they played it very cautiously."
Bopara, 30, reached three figures in 98 balls as they surpassed Lancashire's target of 161 with 17 overs to spare.
"I went out and said 'look, I've got to be positive here - I'm not going to just nudge it around like they did," said Bopara.
"I knew that wasn't the way forward and I just tried putting pressure on the bowlers. If they were slightly off I went after them, and it worked nicely.
"We're a force in any white-ball cricket. I don't think we've got the strongest bowling line-up in the country but we've got one of the strongest batting line-ups."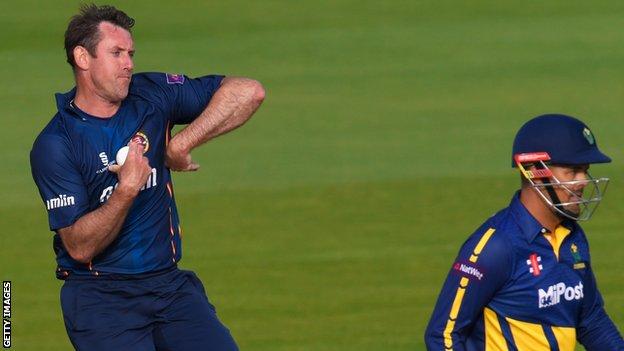 As well as Topley and Bopara taking six wickets between them, 37-year-old David Masters bowled an impressive spell and dismissed Alviro Petersen.
"Hoddy (Masters) turned up to the ground at start time I think, had a little warm-up on the side of the pitch and came on to bowl," added Bopara.
"I've said it for a long time, warm-ups are overrated. You don't really need them, they waste a lot of energy and time.
"David has been brilliant and there's nothing in the world that could warm you up for bowling other than actually bowling."