Clive Rice: Former South Africa and Notts captain dies aged 66
Last updated on .From the section Cricket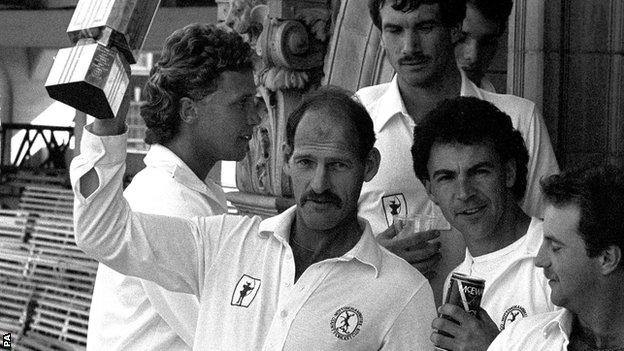 Former South Africa and Nottinghamshire captain Clive Rice has died aged 66.
One of the best all-rounders of his era, he played for Notts between 1975 and 1987 and led them to the County Championship title in 1981 and 1987.
Rice, who had been receiving treatment for a brain tumour, played only three one-day internationals because his career coincided with South Africa's sporting isolation during apartheid.
He scored 26,331 first-class runs at 40.95 and took 930 wickets at 22.49.
BBC cricket correspondent Jonathan Agnew
"Clive Rice was a very hard, tough, no-nonsense cricketer. He could bowl genuinely fast and aggressively, and he gave nothing away as a batsman. He exuded steel, but off the pitch he was a very softly spoken, gentle man.
"He was one of the great all-rounders of the late 1970s and early 80s - he was the quickest of the great all-rounders, faster than Hadlee or Botham or Kapil Dev. But we will never know how he would have matched up against them in international cricket.
"He was the man to take South Africa out of the wilderness after apartheid. I remember interviewing him after he captained them in their first ODI in Calcutta and he said very softly: 'Now I know how Neil Armstrong felt.'"
Rice, who was treated for his tumour in India in March, died in a hospital in Cape Town.
Aged 42 when he made his official international debut, he was South Africa's first skipper in ODIs after their readmission to international cricket in 1991.
He played 482 first-class matches, mainly for Transvaal, Natal and Notts, between 1969 and 1994.
As Nottinghamshire coach between 1999 and 2002, Rice was instrumental in introducing South Africa-born Kevin Pietersen to English cricket by signing him in 2000.
Cricket world pays tribute
Former England captain Michael Vaughan on Twitter: "A great man... Great Cricketer... And a huge inspiration for so many."
Ex-England coach David Lloyd: "Sad to hear that Clive Rice has passed away... terrific all-rounder... great competitor... and a real good bloke."

Former South Africa batsman Herschelle Gibbs: "Sorry to hear about the passing of Clive Rice. Astute captain and a man that played the game hard!"
Ex-Nottinghamshire team-mate Andy Pick: "He was the best captain I played under and always led from the front. He inspired everyone around him to be better and was hard physically and even harder mentally. He treated young players and stars equally."
BBC cricket analyst Simon Hughes: "What a fantastic cricketer Clive Rice was. I will never forget the blistering square drive off his SS Jumbo, severe pace and demanding stare. He was a fearsome bowler."

ICC chief executive and former South Africa team-mate David Richardson: "Clive Rice was a giant of the game, not just in South Africa, but across the cricketing world. Though his international appearances for the Proteas were limited to just three ODIs, Clive was a hugely inspirational figure for those of us who had the privilege to represent our country."
Former Nottinghamshire team-mate Chris Broad: "Very sad day for cricket as Clive Rice leaves the crease for the last time. An inspiration to all who played under him."