Ashes 2015: Finn shines in crazy England turnaround - Agnew

By Jonathan Agnew
BBC cricket correspondent
Last updated on .From the section Cricket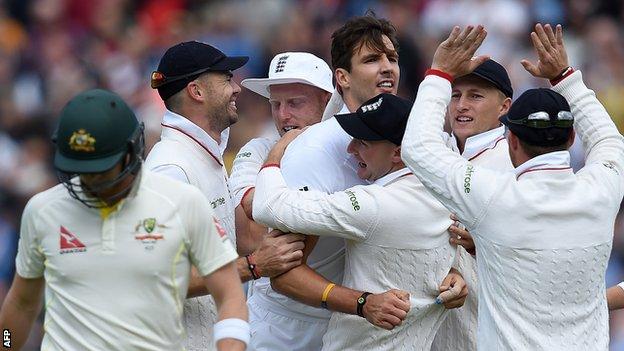 What a crazy sport this is.
England's performance at Lord's in the second innings was diabolical. It was so appalling that captain Alastair Cook was as angry as I've seen him at the end of a match.
So for England to come out in the next Test and bowl out Australia for 136 in even quicker time than they were skittled out themselves at Lord's defies logic.
But it happened, and by the end of a raucous day of reckless shots and skilful seam bowling England had revived their Ashes campaign, reaching 133-3 to move within three runs of Australia's score.
Former England batsman Geoffrey Boycott on BBC Test Match Special
"England are in the perfect position. They couldn't have dreamed of this after Lord's. They will just be saying to go in and show patience, discipline and bat. But Bell and Lyth gave their wickets away and they need to stop doing that. Make them bowl you out."
At the start of the day, I did not encounter a single person out in the middle who would have done anything other than bat first.
It wasn't a 500 pitch, but batting sensibly, Australia could conceivably have made 280 or more in these conditions.
On a surface like this, a batsman has to be disciplined, to make the bowler really work hard for their wickets. You have got to leave as much as you can, you have to really make that bowler feel under pressure to make you play.
But Australia - and England to an extent later in the day - played some poor shots and were frequently the architects of their own downfall.
That is not to detract from the performance of the England bowlers, who made the most of conditions ideal for their skillset.

It was a brave call to bring Steven Finn back into the side. He bowled well in the one-dayers but his confidence has been so low over the last couple of years.
Let's not forget it was only 18 months ago that he was sent home from the last Ashes tour, described as "unselectable" by England assistant coach Ashley Giles.
He is not one of those imposing sorts of people who will rush out there and say "give me the ball". He is quite an anxious fellow, who would have been feeling pretty nervous about returning to Test cricket in such a big Test match.
In those circumstances, taking the wicket of Steve Smith - the number one batsman in the world - in his first over must have felt like a dream come true.
He got some bounce and movement and bowled at a good pace, which was really great to see.
Finn's return is such good news for England. There really isn't a huge amount of depth in the fast bowling reserves so England need him to be fit and firing.
After Finn had dismissed Smith and Michael Clarke, James Anderson blew away Australia's middle order.
Anderson's best Test performances

Figures

Opponent

Ground

Date

7-43

New Zealand

Trent Bridge

June 2008

6-17

Pakistan

Trent Bridge

July 2010

6-42

West Indies

Bridgetown

May 2015

6-47

Australia

Edgbaston

July 2015
I said at the start of the series that England's best chance of beating Australia would be on slow seaming pitches that allow Anderson and Stuart Broad just enough help.
It is so disheartening as a swing bowler when you get an edge and you see the ball bouncing twice through to the keeper. You just think 'how am I going to get somebody out?'
But there is just enough nip and movement in this track, allowing Anderson to expose Australia's lack of experience against the moving ball to devastating effect.
The Edgbaston crowd also played a huge part in England's success with the ball.
The way they get behind England here and the noise levels they create is like nowhere else in the country.
When they had wickets behind them and the crowd were roaring as they were running in to bowl, it must have felt amazing to be an England bowler. Meanwhile, the hostility clearly unsettled some of the Australia batsmen.
Sadly, England's efforts with the ball were slightly undermined by two moments of madness with the bat.
Adam Lyth's shot was just horrendous. The fact that he swung so loosely at a ball so far outside off stump goes against everything that an opening batsman should be doing in these conditions and in these match circumstances. It is a big worry and must have set off some alarm bells for the England selectors.

Ian Bell, having played so freely and positively, threw it all away with a needless slog at Nathan Lyon.
Why both sides feel they have to attack the spinners in this way, I just don't know. Moeen Ali has benefitted from it, and now Lyon is too.
A spinner should not be getting you out in these conditions. It should be a welcome relief from the quality seam bowling and you should look to just play him in a normal way.
Modern batsmen often seem to be in such a rush. We all enjoy positive cricket and fast scoring but at other times you have to battle and fight.
Without the recklessness of Lyth and Bell, England's day could have been even better, but the sun is going to shine tomorrow, which should make it a much better batting day.
It doesn't matter how long it takes, but if England get a lead of 200 or more they can put the Australians under pressure and win the game.
Jonathan Agnew was speaking to BBC Sport's Sam Sheringham.
Listen to Jonathan and Geoff Boycott review each day's play on the TMS podcast.