Ashes 2015: Michael Clarke says Australia are playing with 10 men
Last updated on .From the section Cricket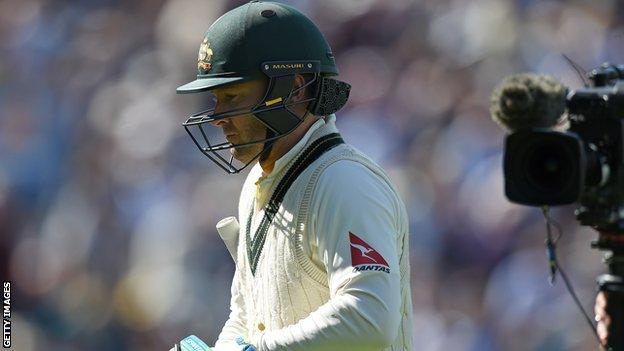 Australia captain Michael Clarke says his team are "playing with 10 players" because of his lack of form.
"We've been playing with 10 players and the captain's got to come off the plane and contribute," said Clarke.
"England deserve credit. They've bowled well and found a way to get me out early in my innings."
Clarke, who led Australia to a 5-0 Ashes series win in 2013-14, has a career batting average of 49.73, but that record drops to 42.36 against England.
The right-hander is averaging just 18.80 in this series, batting at number four. His career average at four is 30.89, compared to 61.83 at number five.
"My record at five is better than at four, but it's about what is best for the team," said Clarke.
"I can't put my finger on it. It's always about my preparation. If I do the hard work, that gives me the self-belief."
Australia levelled the series with a 405-run win in the second Test, but did not recover from being bowled out for 136 in the first innings of the third Test at Edgbaston to lose inside three days.
As Ashes holders, the tourists only need a drawn series to retain the urn, with the fourth of the five Tests beginning at Trent Bridge on Thursday.
"I still believe we can win the series, but we have to play our best," said Clarke. "We need to make more runs as a unit and execute better with the ball."