Ashes 2015: Rollercoaster series is compulsive viewing - Agnew

By Jonathan Agnew
BBC cricket correspondent
Last updated on .From the section Cricket
This Ashes series is shaping up to be an absolute classic.
We are only three Tests in but already so much has happened, with so many twists and turns.
It is like a rollercoaster ride and it is running away with everyone.
Only two and a half days of Test cricket have elapsed since England were trounced at Lord's, but suddenly they find themselves one win away from regaining the Ashes.
England captain Alastair Cook was as angry as I have ever seen him after the 405-run defeat at Lord's. But after the eight-wicket triumph at Edgbaston, he was relaxed and jokey as he talked warmly about Steven Finn's man-of-the-match performance in his first Test for two years.
On the flip side you have Michael Clarke, a captain for whom the problems are mounting up.
He has only scored 94 runs all series, he has a host of team-mates who are struggling against the moving ball and, if reports are to be believed, a dressing-room that has been divided over the issue of wicketkeeper Brad Haddin, who missed the Lord's Test because of a family illness and was not recalled for Edgbaston.
Down as they clearly are, Australia are not yet out, and their mood will have been lifted by the news that James Anderson is out of the Trent Bridge Test with a side strain.
If Anderson was fit, I would be tipping England to finish the job at Trent Bridge, where he has a fantastic record and the ball tends to swing. However, his absence just opens the door slightly to Australia.
The question is: can someone put their hand up and fill the void? Stuart Broad, who only needs one wicket to reach 300 in Tests, is the obvious candidate. He needs to step up and take on Anderson's role as the leader of the attack.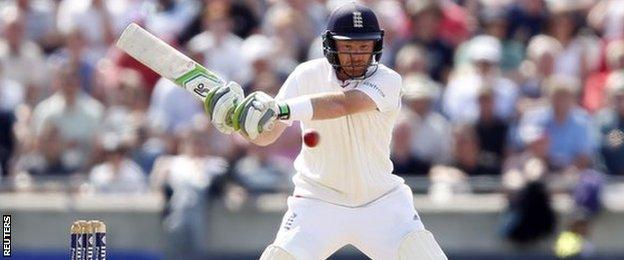 Bell sees England home
England were indebted to another senior player in Ian Bell, who turned a potentially tricky run chase into something of a procession with a fluent unbeaten 65.
Had Clarke held on to a chance to catch him at slip for 20, it could have been a different story, but Bell had made a decision to be positive and seize the initiative and it paid off.
As well as he batted, Bell should still be kicking himself about the way he got out in the first innings when he holed out off Nathan Lyon.
However well you breeze to 53, you can't just toss your wicket away. As a number three batsman in that situation, you must do all you can to go on and score a hundred.
Bell's first-innings recklessness was symptomatic of much of the batting we saw in this error-strewn Test.
It could be down to the pressure of playing in the Ashes, but that pressure is nothing new to these series and I can't remember ever seeing so many batsmen play so loosely in the past.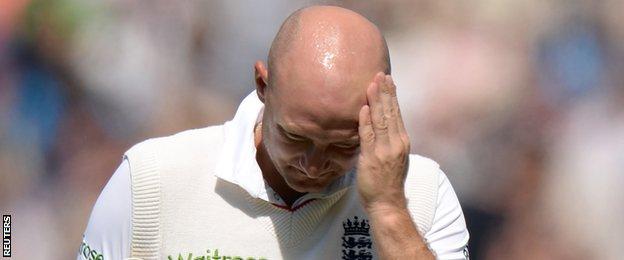 Lyth form is concern for England
England's biggest batting concern is Adam Lyth, who has 72 runs in six innings this series. He missed out again during the run chase on Friday afternoon, but I wouldn't be getting rid of him just yet.
Lyth just needs to give himself time to play. Instead of chasing after wide ones, he should follow Cook's lead and just play each ball on its merits.
He has five Tests in the bank and one century. He is learning all the time, and if you bring in someone new you would simply have to start that learning process all over again.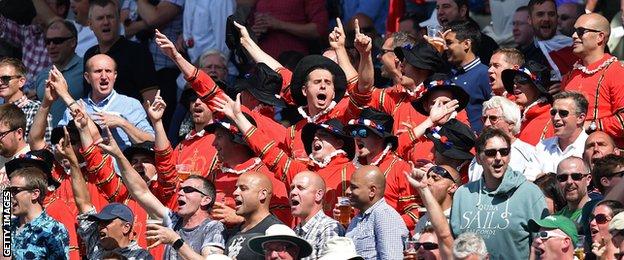 Fortress Edgbaston?
I can't finish without mentioning the 24,500-strong Edgbaston crowd, who were at their boisterous best as they roared England over the line.
Given the lift their fervent support gives the team, I really think we should go back to hosting the first Ashes Test here, which used to happen all the time.
The Australians have got it right. They kick off the series in Brisbane, which is an incredibly hostile and difficult place to go to.
Edgbaston has been named as a venue for the 2019 Ashes, but we are yet to learn the order of matches.
One thing is for certain though, after such a chastening defeat, Australia will be dreading their next visit to Birmingham.
Jonathan Agnew was speaking to BBC Sport's Sam Sheringham.
Listen to Jonathan and Geoffrey Boycott discuss each day's play on the TMS podcast.