Ashes 2015: Eight areas that will decide the series

By Tom Fordyce
Chief sports writer
Last updated on .From the section Cricket160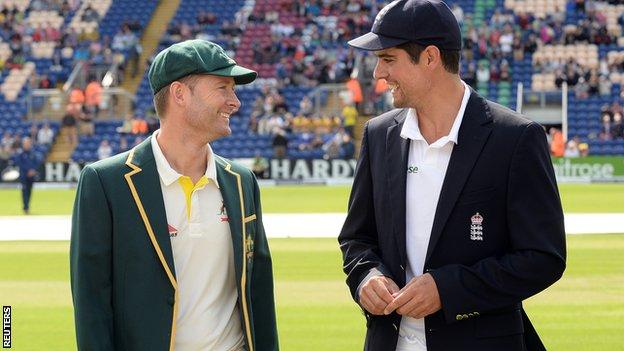 The only predictable thing about this Ashes series is that no-one has the faintest idea what will happen next.
Even in the hosts' record over their last seven Test matches - win, lose, win, lose, win, lose, win - there is both a pattern and no pattern at all.
So to the certainties. England are 2-1 up with two matches to play. What will decide the remainder of the series? These things we can at least be sure of…
Critical captains
If defeat in two and a half days at Edgbaston were not chastening enough for Michael Clarke, it also gave him the most unwanted of distinctions: he has now lost more Test matches as captain than any other Australian skipper in history.
And that is the least of his worries. As a batsman who has averaged more than 50 throughout his career, he is knee-deep in a career slump that may yet become critical: 94 runs in six innings so far in these Ashes, at average of just 18, and without a single half-century in his last 10 Test innings.
"At the moment we are playing with 10 players," he admitted on Friday evening. "The number four isn't turning up."
Alastair Cook is hardly awash with runs. He is averaging only 30 and has made just one half-century in the series.
But as a captain he has been reinvigorated by the dash and drive of the men he is leading; in the field, his decision in the second innings to switch Steven Finn from the City End to the Pavilion End after his first over had gone for 14 runs presaged a burst that saw the fast bowler take five wickets in 13 overs.
Clarke must turn around both his own form, at an age when his body is creaking and his method failing, and drag his weary team back into the series. Cook has the momentum and the men in form.
Bowling changes

England's enforced change at Edgbaston - Finn replacing the injured Mark Wood - worked better than any home supporter had dared hope. While Wood's five wickets in the first two Tests had come at a cost of 50 runs apiece, Finn took eight in the match and a career best 6-79 in Australia's second innings to leave Birmingham as man of the match.
The selectors now have a more critical decision to get right: who to bring in for the injured Jimmy Anderson for next week's fourth Test.
Anderson's record at Trent Bridge is outstanding. Two summers ago he claimed 10 wickets at the ground as England took a lead in the Ashes series that they would never relinquish.
Wood can be brought back. But the weight on his shoulders would be heavier than before; in only his fifth Test, he would be part of an attack in which Ben Stokes has taken only two wickets in the three matches so far at an average of 50.
Australia too must make adjustments. After the success their trio of pacemen enjoyed at Lord's, Mitchell Starc was unable to exert anywhere near the same control at Edgbaston.
He has 12 wickets in the series but is going for more than four an over, which makes the recall of the reliably parsimonious Peter Siddle an attractive proposition.
Then there is Mitchell Johnson, destroyer at Lord's and producer of the two best balls of the Birmingham Test - as he bounced out Jonny Bairstow and Stokes - but not only profligate in between but curiously lacking menace.
He might have 10 wickets in the series. But they have come at a cost of 33 runs apiece, making him the most expensive of the five Australian bowlers to have taken a wicket.
The song is back. His aim is not. If Australia are to fight their way back into the series, Johnson must rediscover his mojo.
Number threes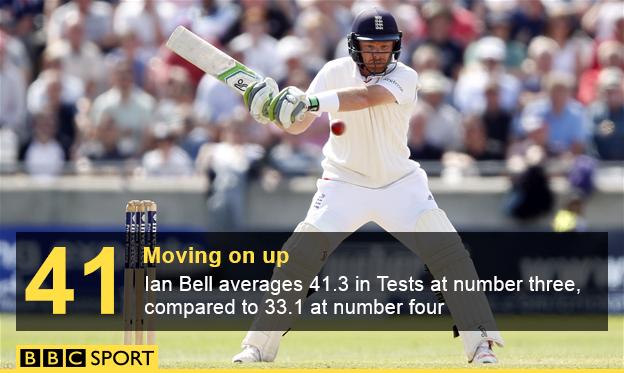 How quickly this series has turned.
Australia arrived at Edgbaston with a number three, Steve Smith, who had just made a double century. England arrived having dropped their own incumbent, Gary Ballance, and made an emergency promotion of a man who had been tried in that slot before and failed to convince.
The home side will now head to Nottingham with Ian Bell not just convincing but seemingly out of a crisis of form. His 65 not out on the third day steered England from a wobble to the most comfortable of victories, his 118 runs for one dismissal promising both stability and success for the remaining two Tests.
Smith's own remaining innings, as the highest-ranked batsman in world cricket, will be critical to his own side's success. At Edgbaston he was twice dismissed by Finn, once to that old weakness outside off stump and once to the sort of top-edged slog more in keeping with the old Smith of three years ago than the dominant player of today.
If Smith fires, Australia are alive. If Bell matches him, England will be favourites to win back the urn.
Catching

Catches don't just win matches. They win series.
In the 5-0 humiliation down under two winters ago, England could barely make a critical chance stick. Michael Carberry's spill of Brad Haddin at Adelaide was both symptomatic and set a pattern for what was to follow.
This time it is Australia who are creaking, from Haddin's own drop of Joe Root when the England man was on 0 in Cardiff (his subsequent century was arguably the single key performance in that win) to Clarke's spill of Bell when he was on 20 on Friday afternoon.
England? They seem to be hanging on to even the half chances - Adam Lyth taking Clarke on Thursday afternoon, Root taking a blinder off Josh Hazlewood on Friday and Jos Buttler going full length down the leg side to dismiss top scorer Peter Nevill just when the Aussie lead was starting to take on worrying proportions.
Voges on the brink

In the last Ashes series down under, Australia's George Bailey was something of a spectre at his team's feast - averaging just 23 as his fellow batsmen flogged England's disintegrating attack to all corners of the continent, notable only by how utterly forgettable he was.
That role this summer has been assumed with even greater success by Adam Voges. At 35 he has had to wait even longer than Bailey to get his chance; with just 73 runs in five innings so far he is blowing it in even more certain style.
Australia cannot afford to keep carrying him, which means that Shaun Marsh (two centuries in the tour matches thus far) must almost certainly come in at Trent Bridge.
And yet Marsh is 32 himself, with a Test average of only 35. In four years he has played only 14 Tests. Australia need him to better both Voges and his own track record.
Opening concerns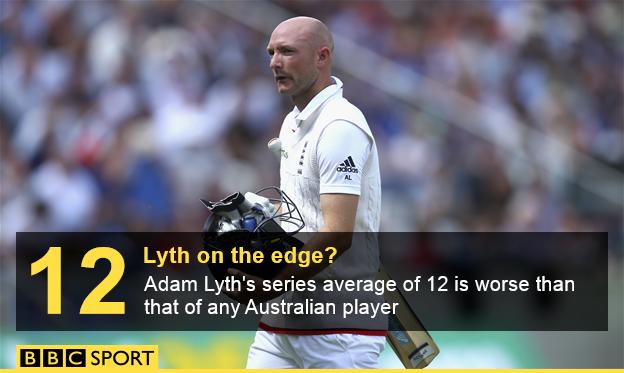 In any ordinary series Adam Lyth - 72 runs from six innings, no closer to making a key score on day three at Edgbaston as on the first morning in Cardiff - would be wondering if his last chance had gone.
What may save him is less his own stellar record in county cricket for Yorkshire last summer than the success of those around him and the lack of credible alternatives.
Had England lost in Birmingham he may have gone. Had any other openers in the county game made sufficient runs this summer even that may not have mattered. But if he stays he needs runs, for England cannot keep ceding the early initiative in a series so tight.
Australia too may have their concerns. While David Warner is scoring freely, he is yet to make a match-defining innings. Chris Rogers made a remarkable 322 runs in the first two Tests, and another 50 in the first innings at Edgbaston; of all the tourists' batsmen, he looks best equipped to cope with English conditions.
He has also been dismissed lbw twice in a row to Stuart Broad coming round the wicket. If Broad can keep that hex going, much of England's work will be done.
Local conditions
Having been undone at Lord's by a pitch that negated their own attack while suiting Australia's down to the ground, England excelled at Edgbaston in classical national conditions: a pitch that offered movement off the seam, cloud cover when they needed it on the first day, an atmosphere in the stands louder and more partisan than anything Lord's or Cardiff could ever hope to offer.
Former England batsman Geoffrey Boycott on BBC Test Match Special
"Michael Clarke must go away with his team and worry that if the pitch at Trent Bridge is one that moves they will struggle again. If they play like they did here again, the Ashes are gone. They have to adapt to the situation."
Trent Bridge, traditionally a swingers' paradise, has seen English wins in the last two Ashes Tests played there. As the most northernmost venue in this series, it will also be every bit as lively as Birmingham.
England will need it, just as they profited so much from a carefully prepared spinning track at the Oval six summers ago, just as Australia failed to cope with either pitch or passion in the stands at Edgbaston.
Form finders

These are two sides with as many flaws as they have success stories.
England? Even ignoring Lyth's travails, they have Jos Buttler averaging just 13, even as Root is in the form of his life and averaging 62.
Mooen Ali is contributing both key lower order runs and the occasional big wicket; Jonny Bairstow, dismantled by Johnson in his only knock so far, is still no closer to knowing if he has a rebuilt technique that can cope with the demands of Test cricket as well as the county scene.
Australia have already ditched Shane Watson. His replacement, Mitchell Marsh, is averaging just 15 in his four innings thus far. They have precious few other battle-proven men to summon up.
Both sides need to find solutions. Whichever ends the series with more men in form and firing will be the one with their hands on the urn at The Oval.