Glamorgan pitch issues 'embarrassing', says Hugh Morris
Last updated on .From the section Cricket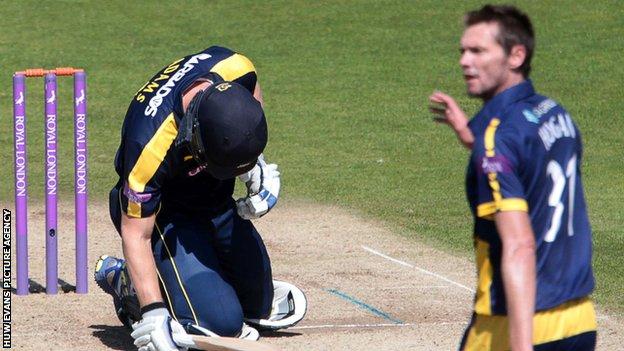 Glamorgan chief executive Hugh Morris says the abandonment of their One-Day Cup match against Hampshire was "embarrassing" for the Welsh county.
Sunday's game was called off because of the Swalec Stadium's "dangerous pitch" after Hampshire batsman Jimmy Adams was hit by a rising delivery.
Glamorgan were deducted two points for preparing a poor pitch in 2014.
"We are embarrassed as a club, we are hugely disappointed and we'll be having a full inquiry," said Morris.
"If the umpires thought it was dangerous, then clearly it was the right decision to make.
"I have no qualms with the umpires at all. If they thought it was dangerous, then the game has to be called off."
After Glamorgan posted 182-9 from their 50 overs, the umpires abandoned the match just 6.4 overs into Hampshire's innings when Adams was struck on the helmet by a ball from Michael Hogan which bounced unusually high from a regular length.
Last season Glamorgan were docked two points for preparing a poor pitch after their defeat by Durham in the One Day Cup - a deduction applied to the 2015 competition - and they were also deducted eight points in 2007 for a poor wicket in a Championship match against Middlesex.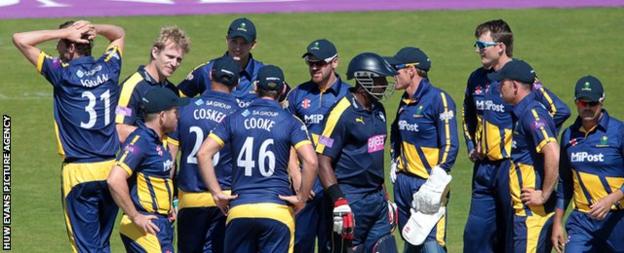 Asked if he expected another points deduction, Morris said he would await judgement from the England and Wales Cricket Board.
"What I want to do is apologise to those who were listening to the game, who were watching the game on television and [those] who had paid good money to come here to be entertained this afternoon," he added.
"Part of the inquiry that we'll be conducting, we'll be interviewing a number of different parties, and we'll be making recommendations and decisions based on that.
"It's going to be comprehensive, it's going to be robust, and it will happen straight away."
The match was played on the same pitch on which Glamorgan beat Essex on Friday.
"It's not unusual. We do it, most grounds in the country do it," said Morris.
"I'd be surprised if everybody doesn't do it. It's two 50-over games of cricket and we prepare pitches for four days usually (in the Championship).
"Friday night we had an above-average mark from the umpires and there was no indication that the pitch was going to play as it did today."
Glamorgan have offered ticket-holders at the abandoned Hampshire match a full refund.