Northants deny they are in 'do or die' financial trouble
Last updated on .From the section Cricket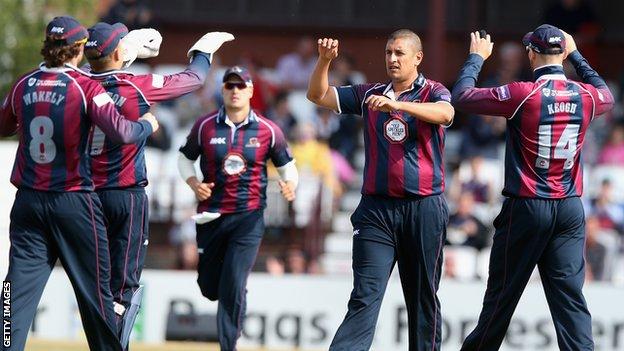 Northants have asked the England and Wales Cricket board about financial help, but have denied reports that they require an emergency loan.
The Division Two club declared a loss of £305,636 last year, and a Cricinfo report claims they now need £500,000 to meet urgent financial obligations.
"We've gone to the ECB asking what financial support is available," said Northants chief executive Ray Payne.
"There's nothing new about Northants and the situation we're in."
He added the new board at the ECB was "talking to all of the clubs".
Payne denied Cricinfo's claim that Northants had asked for an emergency loan from the ECB, and said the club is in the first year of a three-year plan to try to make it more sustainable.
"It's not an emergency loan, it's about longer-term cashflow and ensuring the losses reported last year are not reported this year," Payne told BBC Radio Northampton.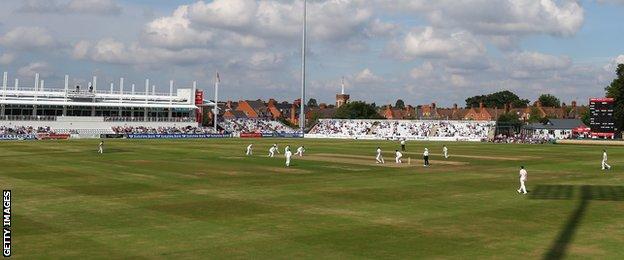 "It's not do or die for the club, it's about what support is from the ECB going forward."
The Cricinfo article also claimed the club were looking to move away from Wantage Road, their home since 1905.
But Payne said recent investment in the ground, plus a desire to host more non-cricketing events, showed they were not thinking about moving.
"We're certainly not moving grounds, I don't really know where that idea has come from," he added.
"We've invested a lot of money in the ground and that's for all to see. The future of the club is very much at Wantage Road."
A club statement added: "It was agreed by the club and the ECB to undergo a financial review earlier in the year in order to gain clarity of our financial situation so as to support the business plan in reversing our losses.
"There has been substantial investment in the ground and its facilities and it remains the intention of the board that following the capital investment in the club, it fully maximises the potential of its meeting and events space."