Worcestershire: Andrew Hall's 'six perfect yorkers' at New Road
Last updated on .From the section Cricket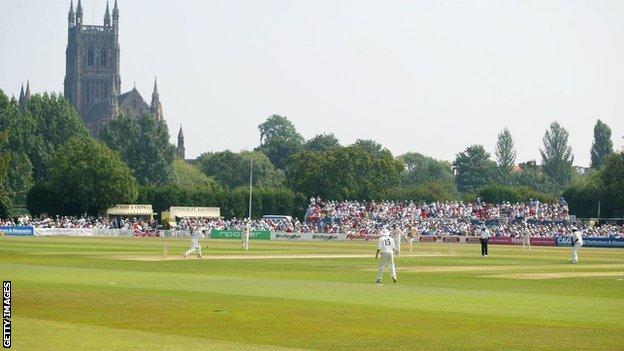 It was a doddle. Seven runs off six balls. Lord's here Lancashire come.
That was where the sensible money was in 2003 as Worcestershire took on the Red Rose in the semi-final of the C&G Trophy.
Cricket very often does not do sensible though and, thanks to a shaven-haired South African all-rounder with a golden arm and a will to win harder than diamond, Lancashire were left feeling greener than the New Road conifers.
Andrew Hall bowled one of the best final overs the ground has ever seen as the visitors, 248-6 before the last over began, choked on their chase. Three wickets fell. No runs scored. A proper strangle.
Ahead of Worcestershire's first major knock-out cup tie since that memorable afternoon, in the quarter-finals of the T20 Blast against Hampshire on 14 August, Hall and Worcestershire director of cricket Steve Rhodes - behind the stumps that day - talk to BBC Sport about those six pivotal balls.
The situation
Opener Mal Loye, 116 not out, was carrying Lancashire towards the final. Crucially, wicketkeeper Warren Hegg took a single off the last ball of the penultimate over, stealing the strike for the final one.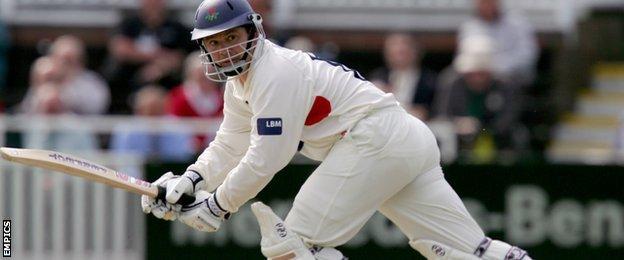 Despite being no slouch with the bat, it was a decision that was to prove fatal to their chances as Hall was chucked the ball for one last hurrah by Worcestershire captain Ben Smith.
The mindset
"Mal Loye was at the non-striker's end and batting well and I didn't want to get Mal on strike because he could win the game for them," Hall said.
"I had to try and bowl a maiden, or as many dot balls as possible, to force Mal to do something silly at the back end if he had to - you give it 100% because it's never over until the last ball."
Other knock-out occasions at New Road
2004: C&G quarter-final v Essex (won by 21 runs)
- Worcestershire recovered from 75-5 to post a competitive 205 all out before also reducing the visitors to 75-5. Essex were eventually bowled out for 183.
1994: NatWest quarter-final v Northants (won by two wickets)
- Phil Newport's four wickets helped dismiss Northants for 128. Curtley Ambrose's 3-16 caused a wobble but Worcestershire got over the line.
1988: NatWest semi-final v Hampshire (won by 29 runs)
- Graeme Hick was the match winner - with the ball - as his 4-54 ensured Worcestershire's 268 all out proved enough to reach Lord's.
'Six perfect yorkers'
"At that stage I was already doing a lot of death bowling for South Africa and it was going really well," Hall continued.
"The ball was tailing in a fraction and, for me, it was the same thing as always - the only thought in my mind was 'I'm going to bowl six perfect yorkers'. I knew I could do it and I didn't think about what would happen if I missed."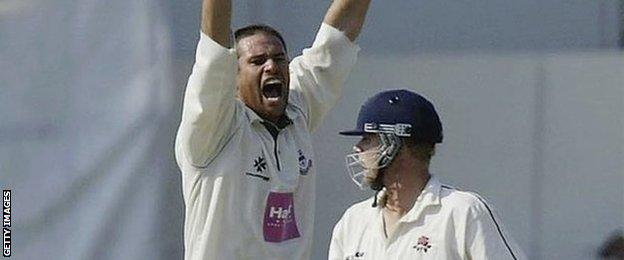 The over: 248-7, 248-8, 248-9
The first ball clattered into the base of Hegg's stumps. The second was dug out by seamer Peter Martin. The third rocketed through his defences. John Wood managed to survive the fourth but, in a desperate bid to get Loye on strike, ran himself out off the fifth. Three wickets had gone. So had Lancashire's chances.
"They really messed up," Rhodes added. "A couple of balls came through to me and I ran up to the stumps to make sure they didn't run.
"You're so nervous off the field but when you're out there playing you don't get nervous, you get excited more than anything. We had nothing to lose, thankfully Mal Loye didn't get any strike."
The legacy
There were no repeat heroics from Worcestershire in the final at Lord's as they were comfortably beaten by Gloucestershire. Nevertheless, Hall's exploits in the semi-final went down in New Road folklore.
"Whenever I played against Worcester, the fans still talked about it - even supporters in the street. One Lancashire fan still said 'I can't believe you did that to us!'" Hall said.