Glamorgan: Mike Powell's fears over future Cardiff Test matches
Last updated on .From the section Cricket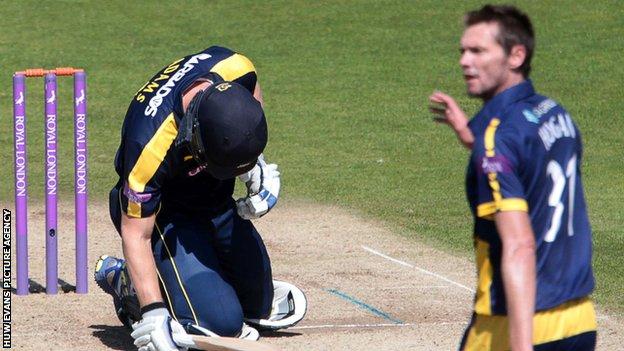 Glamorgan's abandonment against Hampshire could scupper hopes of future Ashes Test matches in Cardiff, says former batsman Mike Powell.
The Stadium hosted the 2015 Ashes opener and Powell says Glamorgan would be in grave financial trouble if future Tests are taken away.
"The reason they built the stadium is for international cricket," he said.
"It's an Ashes venue now and a game was called off because it wasn't up to play a 50-over game.
"If the ECB [England and Wales Cricket Board] turn around and say 'sorry your wicket isn't up to hosting another Ashes' that's huge financial problems for the club."
Glamorgan's home underwent a £9.5m redevelopment in 2008 that increased the stadium's seating capacity from 5,500 to 15,643.
The Welsh county now have debts of £16m, but their plight was improved in May when Cardiff Council agreed to write off £4.4m of a debt owed for the stadium development.
ECB investigation
Glamorgan are set to discover next week - possible as early as Monday - whether they will face any punishment from the England and Wales Cricket Board for Sunday's abandonment.
The ECB sent a consultant to view the pitch on Monday and a separate report has been filed by the match officer.
These findings will be presented to the ECB's discipline commission, who will decide "on the appropriate steps", while Glamorgan are also conducting their own investigation into events.
Last season Glamorgan were docked two points for preparing a poor pitch after their defeat by Durham in the One Day Cup - a deduction that was applied to the 2015 competition - and they also lost eight points in 2007 for a poor wicket in a Championship match against Middlesex.
The SSE Swalec Stadium first hosted an England v Australia clash in 2009 and the venue hosted the first Test of the 2015 series, which England won by 169 runs.
Glamorgan chief executive Hugh Morris had spoken following the first Test in July that he was confident Ashes cricket would return to Cardiff in 2022.
But Morris said the abandonment of the One-Day Cup match against Hampshire was "embarrassing" for the Welsh county.