Ashes 2015: 'Unstoppable' Stuart Broad writes name into history

By Jonathan Agnew
BBC cricket correspondent
Last updated on .From the section Cricket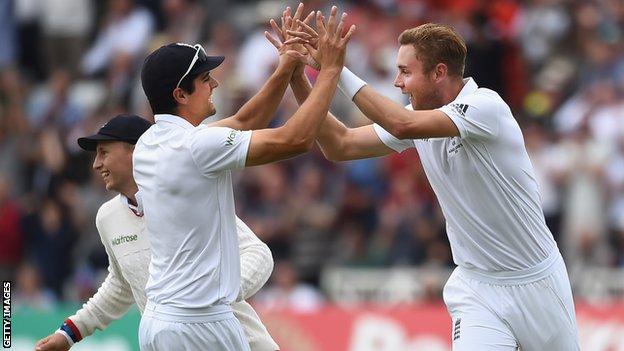 Stuart Broad produced a spell of bowling that we will still be talking about in 50 years to sink Australia to their knees and put England on the brink of regaining the Ashes.
I never doubted that Broad would deliver. He's a very competitive player and I always felt the responsibility would do him good. But that's not to say I expected him to take eight wickets for 15 runs.
Those sorts of figures are usually the realm of schoolboy cricket when people get caught at mid-on and mid-off. It was beyond extraordinary.
After all, this was not just any old Test match. It was a contest to decide the Ashes.
There was a danger that Broad would get preoccupied by the search for his 300th Test wicket. Had he not struck an early blow, he might have started forcing the issue.
Instead, he took a wicket with his third ball and never looked back. It was utterly remarkable and will earn him a well-deserved place in Ashes history.
On a personal level, I feel very proud for Stuart. He was brought up very close to me and I've known him and his family since he was a child.
I texted him at the end of the Cardiff Test and said I didn't think I had seen him bowl better. Although he only took five wickets on a pitch that offered him very little assistance, he bowled beautifully and looked to be in a brilliant groove. You just knew he would take a stack of wickets somewhere.
When Broad gets on a roll he is an unstoppable force. He gets himself into a state of controlled anger and creates the feeling that a wicket could come off any ball.
He famously produced Ashes series-winning spells at The Oval in 2009 and Durham in 2013 and this looks very likely to be another.
It was always a mistake to try to be England's "enforcer", the infamous label he was given by then bowling coach David Saker during a lean spell in 2011.
When Broad is at his best he is more akin to Glenn McGrath. He bowls that full length on off stump and troubles batsmen with bounce and movement off the pitch.
Former England batsman Geoffrey Boycott on BBC Test Match Special
"I never had any doubts that Broad would bowl well. He has been bowling well since the Test match in Barbados in May, he's been bowling with lovely rhythm, and eventually it's paid off. Trevor Bayliss could see that our fast-medium bowlers were cannon fodder when it doesn't move, and very dangerous when it does."
A lot of young quick bowlers go through a phase of not knowing what type of bowler they are. It took Stuart a while to learn his craft, but he's mastered it now and is bowling as well as he's ever bowled.
Broad's wickets on Thursday were a combination of skilful bowling, brilliant slip catching and very poor batting technique by a team that looks totally shot.
Ben Stokes's catch to dismiss Adam Voges was exceptional. Andrew Strauss produced a similar one-handed effort during England's victory at Trent Bridge in 2005, but this was even better.
Broad's best performances

Figures

Opponent

Ground

Date

8-15

Australia

Trent Bridge

August 2015

7-44

New Zealand

Lord's

May 2013

7-72

West Indies

Lord's

May 2012

6-25

India

Old Trafford

August 2014
The ball was travelling faster, Stokes was closer to the batsman and the ball was behind him when he took that catch. It was simply amazing.
Why Voges was even playing I will never understand. The decision to jettison all-rounder Mitchell Marsh in favour of his brother Shaun was deeply flawed and betrayed a desperate lack of confidence in their batting.
And as England piled on the runs in the evening session, Australia's selectors were surely rueing the absence of a fourth seamer on a green, damp pitch.
After another century from the prolific bat of Joe Root, England have the Ashes in the bag. All that remains is to zip it up.