Ashes 2015: Alastair Cook says England win 'beyond belief'
By Sam Sheringham
BBC Sport at Trent Bridge
Last updated on .From the section Cricket
England captain Alastair Cook said his team's resounding Ashes triumph over Australia was "beyond belief".
Cook's pre-series underdogs completed a second straight three-day victory over their opponents at Trent Bridge to take an unassailable 3-1 lead in the series.
"To win as we have done is beyond belief," Cook, 30, said.
"I didn't think we were quite ready to win the Ashes because I thought you needed players who were match-hardened, but the guys out there surprised me."
He added: "We've won really critical moments and players have made that big step from guys with little experience to match-winners for England."
England lost the last Ashes series 5-0 in 2013/14, were knocked out of the World Cup in the group stages in March and drew their last two Test series with West Indies and New Zealand 1-1.
But after clinching victory by an innings and 78 runs in the Saturday sunshine at Trent Bridge, Cook hopes England's attacking cricket has won over a sceptical public.
"We've tried to really enjoy every moment," he said. "The big thing this summer has been trying to show people our talent and players in the dressing room have really thrived in that atmosphere we've tried to create.
"People are prepared to express themselves more than we have done in the past."

The 5-0 whitewash in Australia led to Cook being criticised heavily for his defensive style of captaincy.
And the skipper admitted he had adapted his leadership methods to embrace a young, energetic new team.
"I realised I had to change a little bit," he said. "I had to be a less stubborn captain than in the past.
"Stubbornness gets you a long way in international cricket because you need that inner belief and self-belief that you are doing things your way.
"But I've certainly opened my ears to a number of people over the last six months and probably relaxed into it a little bit more as well."
England coach Trevor Bayliss
England's Australian coach was appointed in May but only took charge for the first time in the first Test at Cardiff.
In going up against the country of his birth, the 52-year-old has been in opposition to a number of players he has worked with at New South Wales and the Sydney Sixers.
"I'm not going to gloat in front of Australia," said Bayliss. "I know how much they will be hurting in that changing room.

"I'm not sure I'm surprised, but knowing the strength of the Australian team and the individual players and how good they are, I knew it was going to be a very difficult assignment.
"I think the Australian team is probably in a little bit of a transition period - but England were good enough to exploit those weaknesses. The skill they showed, with the movement they were able to extract out of the wicket, was a fantastic effort.
"Certainly when the boys took that last wicket, and the lap of honour, the hairs on the back of the neck were standing up."
England bowler Stuart Broad
"We've dovetailed as a bowling unit," Broad said after being named man of the match. "It's the first time we've really settled into a five-man attack since Freddie [2005 Ashes hero Andrew Flintoff] was around. The younger guys are leading the team - the likes of Ben Stokes, Mark Wood, Steven Finn.
"I hope we continue to play this style of cricket because it's entertaining the crowd."
England batsman Joe Root

"It's hard to put it into words the way that this squad of players has come together," Root, who is set to rise to number one in the ICC's world batting rankings, said.
"I put my form down to hard work, being very relentless in your practice, and doing the things you don't want to - you've got to face bowling in practice that whistles around your head.
"For Cooky [Alastair Cook] to go through what he's gone through and still be as true to himself as he is, is phenomenal."
England bowler Mark Wood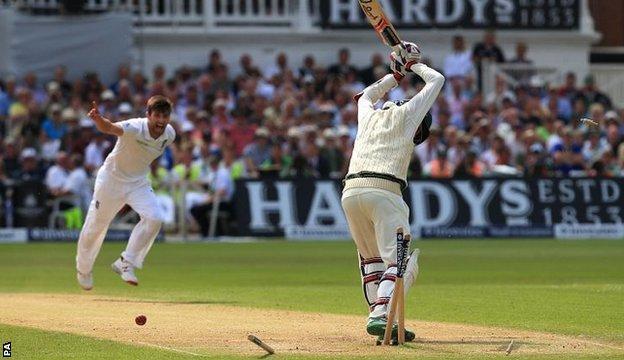 "I can't quite believe it," said the Durham bowler, who clean-bowled Josh Hazlewood and Nathan Lyon to secure the Ashes triumph.
"The summer couldn't have gone any better for me. To miss out at Edgbaston and then to be back here and take the winning wicket is an incredible feeling, one I'll never forget.
"I was still shaking in the dressing room half an hour later. Obviously I haven't played a lot because of my injury record but I don't really care, I've won the Ashes."