Ashes 2015: Ten moments that shaped England's series win
By Sam Sheringham
BBC Sport
Last updated on .From the section Cricket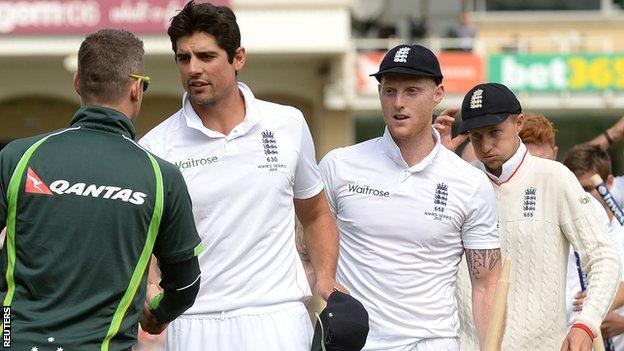 Bold decisions, quirks of fate and flashes of individual brilliance have punctuated England's path to Ashes glory.
Here are ten moments that shaped a special summer.
Appointing Bayliss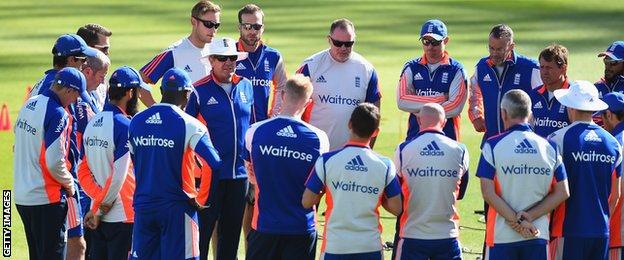 If you can't beat them, steal one of their best coaches. England's quest to win back the Ashes began with the appointment of an Australian coach in Trevor Bayliss.
The 52-year-old took a watching brief as England followed New Zealand's lead during their 1-1 drawn series and began to play an aggressive, attacking brand of cricket.
Bayliss used his inside knowledge to devise plans for Australia's batsmen and took the team on a training camp in Spain that has repeatedly been cited by England's players as the reason behind their drastically improved catching in the Ashes.
What they said: "The more you talk to people about Bayliss and the more you investigate his pedigree, the more excited you become about his appointment." - Jonathan Agnew
Ryan Harris injury
Australia's Ashes preparations were dealt a cruel, if not entirely unexpected, blow when fast bowler Ryan Harris suffered a recurrence of his knee injury and promptly announced his retirement from international cricket four days before the start of the series.
Harris took 24 wickets at 19.58 in the 2013 Ashes series in England, and although he was feeling his way back from injury and may not have played until the third Test, his experience of English conditions could have drastically improved Australia's attack at Edgbaston and Trent Bridge.
What they said: "Congratulations to Ryan Harris on a great career, His record speaks for itself and he's a great guy too. A massive blow for the Aussies." - Graeme Swann
Haddin drops Root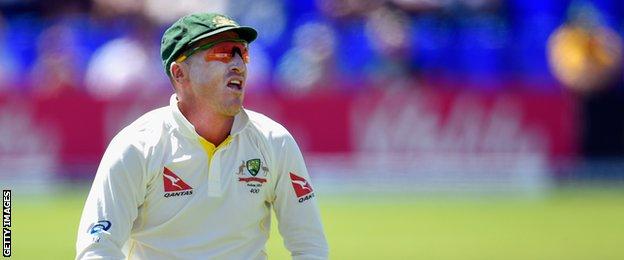 On the first day of the series in Cardiff the fragility of England's top order was brutally exposed as they crumbled to 43-3. Two balls later, they should have been 43-4 when Joe Root edged Mitchell Starc but Australia wicketkeeper Brad Haddin shelled a straightforward chance.
Root went on to score 134, laying the foundation for England's 169-run win.
What they said: "Joe Root and England will be hoping that dropped catch from Brad Haddin will cost Australia dearly." - Michael Vaughan
Smith and Clarke fall into Moeen's trap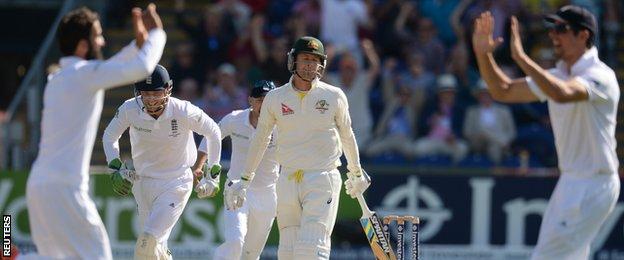 One of Australia's clearest tactics going into the series was to take advantage of England's biggest weakness by getting after Moeen Ali's off-spin bowling. But in the first innings of the first Test in Cardiff, the ploy spectacularly backfired as Australia's two most celebrated batsmen - Steve Smith and Michael Clarke - both perished trying to take on Moeen.
Unable to plunder Moeen, Australia's batsmen were forced to take more chances against England's seamers - with disastrous results.
What they said: "Australia's tactics were too obvious. They wanted to bang Moeen out of the attack so England would have to use their fast bowlers more often. They were impatient, and they paid a heavy price." - Agnew
Lord's fall-out
Not so much a moment as a massacre, England's 405-run defeat at Lord's was a wake-up call for the hosts.
After seeing his attack stifled by a lifeless pitch, Alastair Cook called for the remaining Tests to played in "English conditions" and was rewarded with the greener, seaming tracks at Edgbaston and Trent Bridge.
The Lord's annihilation also proved the final straw for England's malfunctioning top order as Gary Ballance was dropped for Jonny Bairstow and Ian Bell pushed up to number three.
What they said: "If England are going to beat Australia they need to produce pitches that are a bit green and damp on which the ball will nip about off the seam: English conditions that play to England's strengths" - Agnew
Toss trouble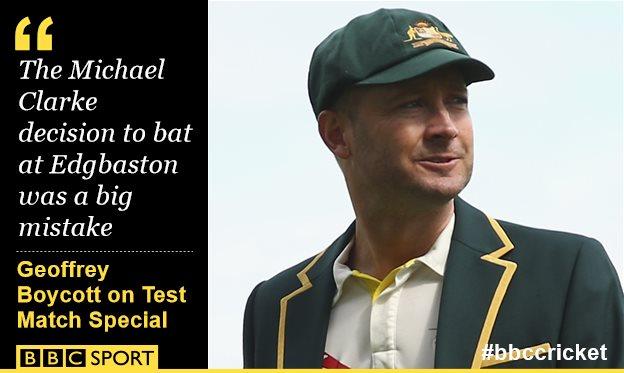 When Michael Clarke won the toss at Edgbaston, he did what Cook would have done in his place and chose to bat. But as the weather closed in and the ball moved around, it began to look like a good toss to lose.
With several short rain delays making it hard for batsmen to settle, Jimmy Anderson took six wickets in Australia's 136 all out and put England on the road to victory.
What they said: "It was a very disappointing day. England put us under pressure and we didn't respond. You have to give their attack credit, but there's times when you have to fight, and some of the shot selection...we needed to have a better day." - Australia opener Chris Rogers
Finn's early strike
Mark Wood's ankle injury prompted England to give Steven Finn his first Test appearance for two years in the hope that the Middlesex fast bowler had fully recovered from the run-up and rhythm problems that had seen him sent home from their 2013-14 Ashes tour.
But what appeared to be a gamble proved to be anything but as Finn took the wicket of Smith with his sixth ball and followed up with six wickets in Australia's second innings to take home the man-of-the-match award.
What they said: "We haven't seen a changing room as happy for anyone as it was for Finny taking his wickets. It was heartbreaking to see one of your friends go through what he did in Australia. He should be incredibly proud tonight of the way he bowled." - Alastair Cook
Rogers round the wicket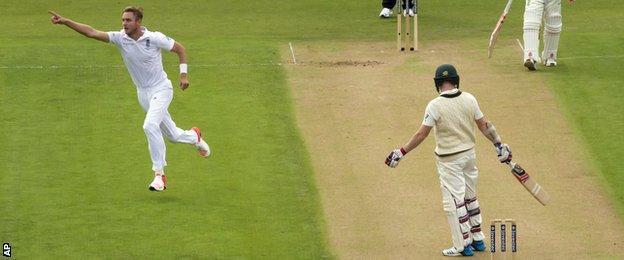 After Chris Rogers scored 327 runs in the first two Tests, England needed a new tactic against the opener.
Before the Edgbaston Test, bowling coach Ottis Gibson and Stuart Broad decided to test the left-hander from round the wicket and the ploy brought rich reward. Rogers was pinned lbw by Broad in both innings at Edgbaston as England romped to an eight-wicket win.
What they said: "Rogers' reaction shows that he knows he has played across a straight one. He played well but it is a good angle around the wicket from Broad." - Vaughan
Broad joins England's 300 club
Broad arrived at Trent Bridge on 299 Test wickets and with the added pressure of leading the attack in Anderson's absence. But it took him just three balls to reach the landmark and only 18 more to complete a dazzling five-wicket haul.
Broad's final figures were 8-15 as England bowled out Australia for 60 and took a giant stride towards regaining the Ashes.
What they said: "If I weren't already married, I think I might propose to Stuart Broad or, if turned down, Joe Root." Actor Stephen Fry on Twitter
The winning moment - stumps fly
England's awesome fourth Test display featured breathtaking catches and another century from Root, but we'll complete our list with the moment the Ashes were won.
As a festive Trent Bridge crowd roared him to the crease in bright Saturday sunshine, Wood sent Nathan Lyon's stumps flying to send England and their supporters into raptures.
What they said: "I was still shaking in the dressing room half an hour later. Obviously I haven't played a lot because of my injury record but I don't really care, I've won the Ashes." - Wood