Weekend cricket results
Last updated on .From the section Cricket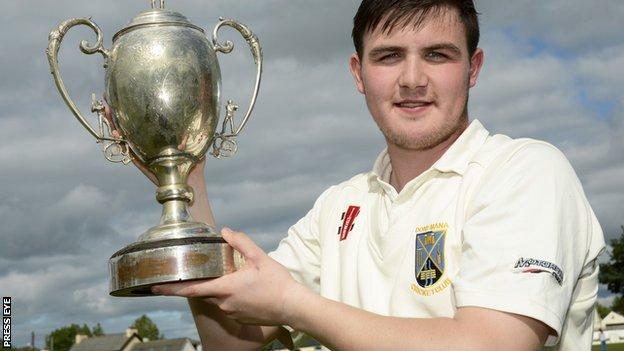 Sunday 9 August
Danske Bank NW Senior Cup final
Eglinton v Donemana at Eglinton
Eglinton 114 and 181-8 R Wylie 62 no
Donemana 179-9 and 117-5 A McBrine 65 no, G McClintock 37, S Thompson 3-37
Donemana won by five wickets
Donemana needed 117 for victory in their second innings and were 9-3 at one stage before Andy McBrine and Gareth McClintock came to the rescue with a fourth wicket partnership of 79.
That put the holders well on their way to victory at 87-4 with McBrine going on to finish undefeated on 62, including one six and nine boundaries.
Ulster Bank Premier League
CSNI v Lisburn
CSNI 49 C Atkinson 5-9
Lisburn 50-0 D Simpson 38 no
Lisburn won by 10 wickets
A crucial win for Lisburn who have moved up to third from bottom in the Ulster Bank Premier League. They have 12 points with Ballymena eight in arrears and Carrickfergus on four with only the one success.
Saturday 8 August
Long's SuperValu NW Premiership
Strabane v Coleraine - 45 overs
Strabane 167-9 R Gallagher 57, T Chopra 4-21
Coleraine 78 A Gillespie 5-12
Strabane won by 89 runs
Bready v Ardmore
Ardmore 148
Bready D/Lewis target 142 - 144-6
Bready won by four wickets
St Johnston v Brigade - 39 overs
Brigade 230-5 I Hussein 90
St Johnston 190
Brigade won by 40 runs
Ulster Bank Premier League
CIYMS v Lisburn
CIYMS 242-9 R van der Dussen 96
Lisburn 65 T Britton 6-16
CIYMS won by 177 runs
Ballymena v Instonians
Ballymena 141
Instonians 142-2 J McClurkin 60 no
Instonians won by eight wickets
CSNI v Waringstown
CSNI 117
Waringstown 105
CSNI won by 12 runs
North Down v Carrickfergus
Carrickfergus 118
North Down 119-4 P. Malan 35 no
North Down won by six wickets