Ashes 2015: How England can top the ICC world Test rankings
By Stephan Shemilt
BBC Sport
Last updated on .From the section Cricket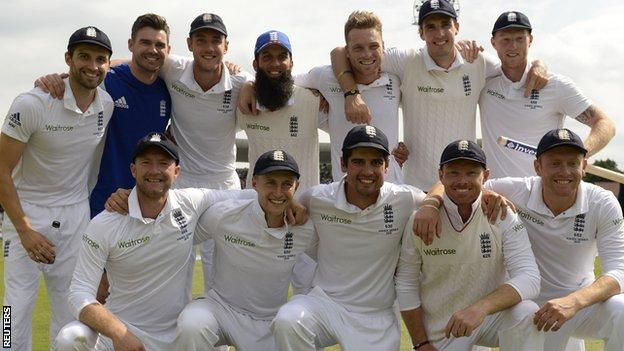 First the Ashes, then the world?
England have turned around a 5-0 Ashes defeat in Australia with victory at home. The last time they did that, it began a sequence of results that saw them climb to the top of the world Test rankings.
Then, it took Andrew Strauss's side two years from the Ashes triumph of 2009 to usurp India at the top of the world in 2011.
Now, with the right sequence of results, England could officially be the best team on the planet by January next year.
We admit it's unlikely, but it's still possible.
Here's one combination of results that could take Alastair Cook's men to top spot. Have a go yourself by using the International Cricket Council's rankings predictor.
Beat Australia 4-1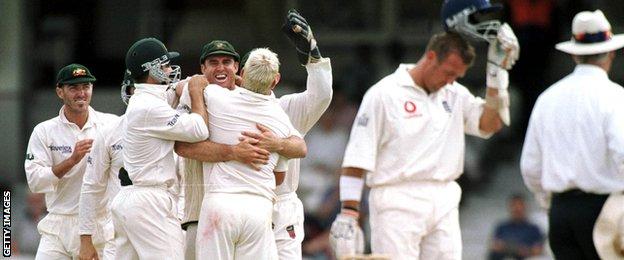 First comes the most likely result of our gaze into the future.
With the urn secured and the momentum of two huge victories behind them, England will be favourites to win the final Test at the The Oval and, with it, secure their best home Ashes result.
A 4-1 series win would see England make a remarkable jump from their current position of sixth to second, above Australia, who currently sit behind South Africa.
No matter what happens at The Oval, England will rise to at least third in the rankings.
ICC World Test rankings

Matches

Points

Rating

South Africa

24

3008

125

Australia

26

2894

111

Pakistan

24

2419

101

New Zealand

29

2875

99

India

23

2242

97

England

30

2920

97

Sri Lanka

25

2307

92

West Indies

26

2101

81

Bangladesh

22

1026

47

Zimbabwe

10

53

5

*Before England's Ashes win is taken into account
Win well in the UAE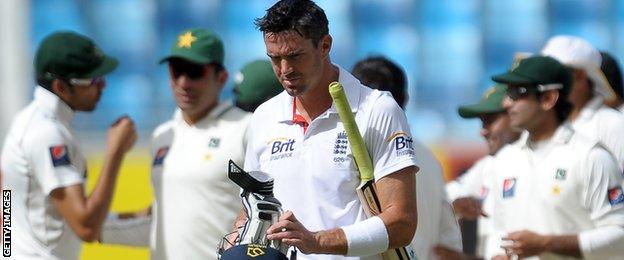 Now it starts to get a little more tricky.
England's next assignment will be an October trip to play Pakistan in the United Arab Emirates, in many ways the final frontier of modern Test cricket.
Pakistan have not lost any of the eight Test series they have played since making the UAE their adopted home in 2010. When England travelled there as world number ones in 2012, they were whitewashed 3-0.
Not only do England need to find a way to win the series, they must taste victory in at least two of the three Tests if they are to stay on track to become the best team on the planet.
Get a favour from India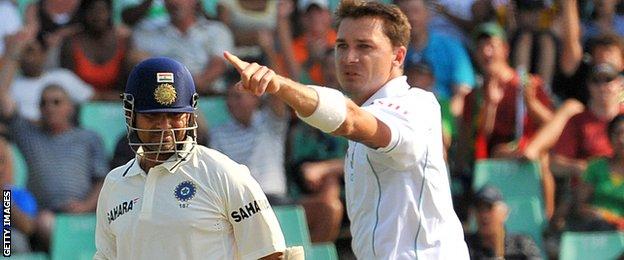 England's quickest possible ascent to the top of the world also requires a spot of help from India, who host current world leaders South Africa in a four-Test series before Christmas.
This wouldn't be a small, 'can I borrow a pound?' favour, but a giant dollop of help, akin to 'do you mind if I move into your house for six months while you live in a tent?'.
South Africa have lost only two of their last 30 series, a run dating back to 2007. India have not won any of their last five and have beaten the Proteas just once since 1996.
For England to go top, these trends would have to reverse to the tune of a 2-1 or 3-1 India win.
Even with the help of the notoriously tricky sub-continental conditions, it's a big ask for Virat Kohli's men. Still, if they pull it off, it would send South Africa home chastened for the final part of England's four-step dance to the summit...
Pummel the Proteas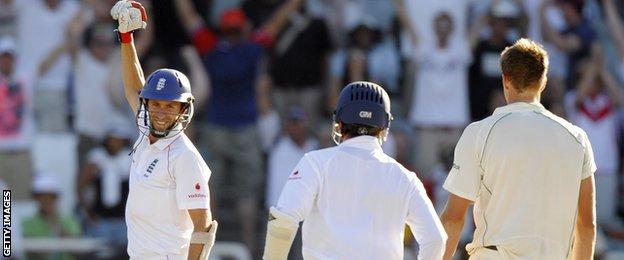 Yes, the crowning glory of England's march would be a series victory in South Africa, something they have managed only once since the Proteas returned to Test cricket in 1992.
Not just any victory either, but by a margin of 3-0 or 4-0 in the four-match series which begins on Boxing Day.
All the more difficult when you think that the last time England went to South Africa on the back of an Ashes success in 2009, they clung on to a 1-1 draw thanks to Graham Onions surviving the final over of a Test on two separate occasions.
Still, there is a way that England, who have only just secured a second series victory in six could pass South Africa, beaten only three times in their last 29 Tests, to become the world's best team.
It's unlikely, but possible. And we never said it would be easy.