Ashes 2015: Australia defend allowing families on England tour
Last updated on .From the section Cricket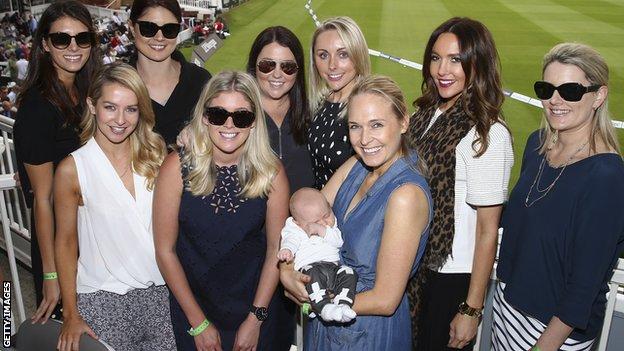 The Australian Cricketers' Association has defended its tour planning following the Ashes defeat by England.
Former Test wicketkeeper Ian Healy was among those to suggest that allowing wives, girlfriends and children on the tour had hampered preparation.
But ACA chief Alistair Nicholson said: "Having families on tour is an important part of the support network.
"Overseas campaigns can be brutal and the short periods they spend with their families has a positive impact."
Skipper Michael Clarke, who made his Test debut in 2004 and was named captain in 2011, will retire after the final Test at The Oval following a fourth series loss in England.
England regained the Ashes at Trent Bridge last weekend, moving 3-1 up with one match remaining to prompt widespread criticism of Australia, who were bowled out for 60 in the first innings.
Former Australia coach John Buchanan said the spirit of the iconic 'baggy green' cap suffered during Clarke's reign as captain.
Buchanan, coach from 1999 to 2007, said: "Players like Steve Waugh, Adam Gilchrist, Ricky Ponting and others really tried to make the 'baggy green' culture special.
"But under Michael's captaincy I can sense it has disappeared a bit."
Michael Clarke as Australia Test captain

Won

Lost

Drawn

Batting average

23

16

7

52.41
Buchanan, 62, recalled Clarke as a young player in the team and said: "If he finished games early, Michael would often leave early.
"I can remember guys like Matthew Hayden and Justin Langer sitting him down in a corner and trying to get him to understand what we were trying to achieve.
"There were times when I felt Michael did not understand or did not want to understand."
In recent days former team-mates of Clarke, who fought back from persistent hamstring injuries to lead Australia's World Cup triumph earlier this year, have also questioned his attitude.
Hayden claims Clarke once threatened to hand back his cap after being asked to field close to the bat at short-leg, while Andrew Symonds said the captain was "not a natural leader".
The criticisms of Clarke follow his own forthright defence of his conduct and the spirit within the squad.
Reports suggested the captain had used a private car instead of the team bus and refused to socialise with other players, that a feud between the wives of two senior players had destabilised the squad and that the dropping of senior wicketkeeper Brad Haddin had caused ructions.
"I can guarantee you, the feeling in this group is exceptional," Clarke told Australia's Triple M radio.
"There is no disharmony is this group whatsoever. The players are as tight as any team I've been a part of."
The 34-year-old was particularly dismissive of the claim the presence of players' wives and girlfriends had been a distraction.
"That's absolute garbage," he said. "I'll give back 10 of my Test hundreds if it wasn't for my beautiful wife. I'd be half the player I was without her."
Meanwhile, fast bowler Mitchell Johnson used Twitter to call a Sydney Daily Telegraph columnist "disrespectful" for accusing the team of arrogance and being distracted by the presence of families on tour.
"I've never had a conversation with this Rebecca Wilson so to be called 'arrogant' is arrogant on her behalf and disrespectful!" he wrote.
"I wanted to say my piece for the team and the families. Just had to speak up."