Ashes: Who will be in Australia's team for 2017-18 series?
Last updated on .From the section Cricket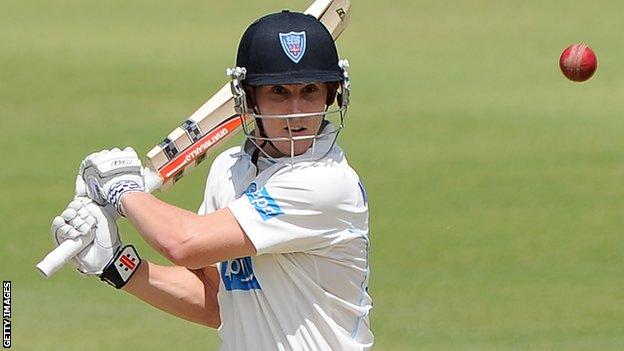 Australia's beaten Ashes team will carry a very different look in the next series against England down under in 2017-18.
Described as "Dad's Army" this summer by their former bowler Jason Gillespie, they will be missing several key players in a little over two years' time.
With captain Michael Clarke and opener Chris Rogers retiring - and Shane Watson, who will be 36 by then, and Brad Haddin, who will be 40, unlikely to return - the batting department will have been deprived of a combined 17,597 Test runs.
Although the bowling attack carries a more youthful sheen, the chances of Mitchell Johnson inflicting more nightmares on England batsmen must be slight given he will be 36 by the start of the return series.
Test Match Special's Australian commentator Jim Maxwell looks into his crystal ball and predicts the XI that will walk out for Australia in the first Test in Brisbane in November 2017.
1. David Warner

Current age: 28; Role: Left-handed batsman; Tests: 43; Average: 46.78
Maxwell: "Warner is in his prime and is not quite the wild man he used to be. I'm hoping that by 2017-18 he will still have a hunger for the game and a desire to be part of the Australia team that regain the Ashes. He will thrive on the responsibility of being vice-captain, helping oversee the rejuvenation of this Australia side."
Did you know? When Warner made his Australia debut for the Twenty20 side in 2009, he was the first player to be picked for Australia without having played first-class cricket since 1877.
2. Cameron Bancroft

Age: 22; Role: Right-handed batsman; First-class matches: 24; Average: 37.38
Maxwell: "Bancroft has impressed in the Sheffield Shield and for Australia A and looks to have a game that can be successful at the next level. In his Western Australia coach Justin Langer he has the perfect mentor to help him develop the temperament for opening at Test level. Bancroft is certainly one of the more promising of Australia's peripheral players."
Did you know? Bancroft kept wicket for Australia in the 2012 Under-19 World Cup.
3. Steve Smith (captain)

Age: 26; Role: Right-handed batsman; Tests: 33; Average: 56.27
Maxwell: "Very few people in the game have the passion and hunger Smith has for playing cricket. Australia's new captain is well placed to lead the side for the next five or six years."
Did you know? All of Smith's 11 Test centuries have come in Australia's first innings - with 10 of them when they have batted first.
4. Usman Khawaja

Age: 28; Role: Left-handed batsman; Tests: 9; Average: 25.13; First-class matches: 89; Average: 39.98
Maxwell: "Since making his debut in the Sydney Ashes Test in January 2011, Khawaja has struggled to hold down a place in the side. But, after a brilliant season with Queensland and Australia A, he is re-emerging as a more mature batsman who can make a significant contribution in the middle order for Australia."
Did you know? Khawaja is the first Muslim to play for Australia.
5. Nic Maddinson

Age: 23; Role: Left-handed batsman; First-class matches: 46; Average: 38.53
Maxwell: "This kid is my wildcard. The left-hander is one of the most talented batsman in Australia but his application lets him down at the moment. He is already a rock star in Twenty20 cricket, but an average of 53 in last season's Sheffield Shield suggests he can make the step up. It's not so much about shot selection as ball selection: he mustn't pre-meditate, but just wait for the right ball to hit. He is such an exciting talent."
Did you know? Maddinson played alongside Mitchell Marsh and Josh Hazlewood - and against England's Joe Root and Ben Stokes - in the 2010 Under-19 World Cup.
6. Mitchell Marsh

Age: 23; Role: Right-handed batsman & right-arm medium-fast bowler; Tests: 7; Batting average: 28.18; Bowling average: 34.77; First-class matches: 51; Batting average: 31.82; Bowling average: 26.70
Maxwell: "Marsh is a burgeoning all-round talent and I'd like to think in another two years he will be a major influence with the bat and ball. He has a bit of work to do with his batting at Test level and needs to try to fashion his game to make runs when the going gets tough."
Did you know? Marsh was a talented Australian rules footballer in his youth and represented Western Australia at the AFL National Under-18 Championships.
7. Peter Nevill

Age: 29; Role: Right-handed batsman & wicketkeeper; Tests: 4; Average: 23.83; Dismissals: 17; First-class matches: 61; Average: 41.85; Dismissals: 193
Maxwell: "Nevill is the outstanding gloveman in Australia and has been excellent behind the stumps since replacing Brad Haddin after the first Ashes Test. He is also a good alternative as vice-captain if Warner decides to shoot his mouth off. Nevill just needs to try to make sure he contributes with the bat, which is such an important attribute for a modern-day wicketkeeper. Should he struggle, Sam Whiteman or Matthew Wade will be knocking on the door."
Did you know? Nevill is a huge heavy metal fan and often posts videos of himself playing the electric guitar on his Instagram page.
8. Mitchell Starc

Age: 25; Role: Left-arm fast bowler; Tests: 22; Bowling average: 31.80
Maxwell: "Starc will always be Starc. He will have some days where it all happens and he gets 6-40 and other days when it doesn't quite work. But he does seem to be improving and his batting is not to be sniffed at. At number eight, he will be assuming the Johnson role as the bowling all-rounder and number one strike bowler."
Did you know? Starc is engaged to Alyssa Healy, who keeps wicket for the Australia women's team.
9. Josh Hazlewood

Age: 24; Role: Right-arm fast-medium bowler; Tests: 9; Bowling average: 21.75; First-class matches: 38; Bowling average: 24.33
Maxwell: "Hazlewood should become the 'glue' bowler in the attack which everyone thought he would be here in England. According to former seamer Glenn McGrath, the Australia coaches have been trying to make him into an outswing bowler but he's much more effective trying to hit the pitch on an off stump line. I'm confident he will sort out his game and become an integral part of this attack."
Did you know? Hazlewood was a national junior javelin champion in his early teens.
10. Pat Cummins

Age: 22; Role: Right-arm fast bowler; Tests: 1; Bowling average: 16.71; First-class matches: 8; Bowling average: 29.84
Maxwell: "Cummins is potentially the most exciting of the bowlers currently on the fringes of the team. If he can bowl with anywhere near the level of pace and outswing we saw on his sensational debut in Johannesburg in 2011 when he was 18, he could be a great strike bowler. Should he continue to be plagued by injuries, James Pattinson would be the next in line."
Did you know? Cummins was Australia's second-youngest Test debutant when he played against South Africa in 2011.
11. Nathan Lyon

Age: 27; Role: Off-spinner; Tests: 46; Bowling average: 34.19
Maxwell: "Lyon continues to be a vital ingredient in the Australia side because of his ability to control the game and get people out when the conditions are right. He will always find unsympathetic pitches in Australia but he has enough variations to be effective and could be closing in on 300 Test wickets by the time of the 2017-18 series. Ashton Agar will get his chance in the subcontinent over the coming months and could be pushing Lyon by then."
Did you know? Lyon was discovered bowling in the nets while working as a groundsman's assistant at the Adelaide Oval.
Statistics are correct at the end of the fifth Ashes Test between England and Australia.
Jim Maxwell was speaking to BBC Sport's Sam Sheringham.