Salman Butt and Mohammad Asif poised to play again after bans
Last updated on .From the section Cricket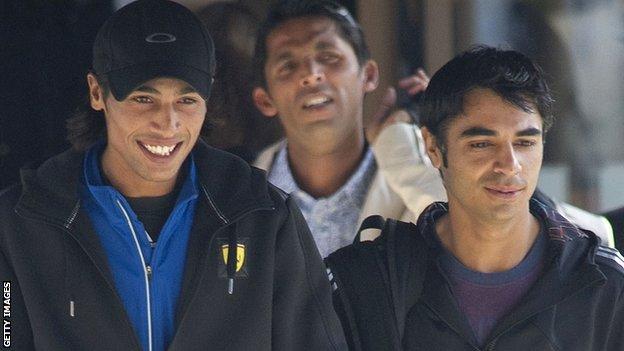 Former Pakistan Test cricketers Salman Butt and Mohammad Asif will be free to return to competitive cricket on 1 September, the International Cricket Council has confirmed.
Bowler Mohammad Amir, who was banned at the same time, returned to Pakistani domestic cricket earlier this year.
All three will be eligible to play international cricket from next month.
Amir, 23, fellow bowler Asif, 32, and captain Butt, 30, were convicted over 'spot-fixing' offences in a Test match against England at Lord's in August 2010.
They were found to have deliberately bowled no-balls as part of a betting scam initially uncovered by a undercover investigation by the now-defunct News of the World.
Who were the banned trio?
Salman Butt:
An opening batsman, Butt played 33 Tests, captaining Pakistan in five. He averaged 30.46, with three hundreds.
Mohammad Asif:
Fast bowler Asif took 106 wickets in 23 Tests at an average of 24.36. Once the number-two ranked Test bowler in the world.
Mohammad Amir:
Youngest-ever bowler to take 50 Test wickets, at just 18. Also a key part of Pakistan's 2009 World T20-winning team.
Amir, 19 at the time, was banned for five years, Amir for seven years with two suspended, and Butt, described as the ringleader, for 10 years with five suspended.
In addition to these sanctions, all three players were jailed: Butt for 30 months, Asif for one year and Amir for six months.
In January, Amir was granted permission by the ICC to return to domestic cricket eight months prior to serving his full five-year ban.
He has since played four matches for Rawalpindi Rams in Pakistan's national Twenty20 tournament.
In May, he said he was aiming to play for Pakistan in next year's World T20 in India.
Butt told ITV News in April that he also harboured ambitions of playing international cricket again.
The trio would theoretically be eligible to face England in their series against Pakistan in the United Arab Emirates in October and November.