Saturday's cricket results
Last updated on .From the section Cricket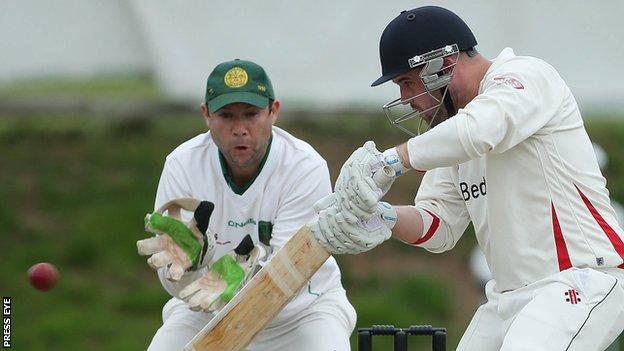 The surprise in the Ulster Bank Premier league on Saturday was the defeat of champions Instonians by Carrickfergus.
Carrick's five-wicket win boosted their chances of remaining in the top section while Inst's championship hopes have been dashed.
Waringstown's defeat of North Down makes them joint leaders with the Comber team with a game in hand.
Ulster Bank Premier League
CIYMS v Ballymena
Ballymena 110 (J Thompson 3-20); CIYMS 111-5 J Thompson 53 not out
CIYMS won by five wickets
Carrickfergus v Instonians
Instonians 229-7 (J Shannon 104 not out); Carrickfergus 230-5 (J Ring 60, R Eagleson 44 not out)
Carrickfergus won by five wickets
Lisburn v CSNI
Lisburn 149; CSNI 150-4
CSNI won by six wickets
North Down v Waringstown
Waringstown 265-7 (J McCollum 67, J Hall 62; T Khan 5-35) North Down 212 (P Shields 57)
Waringstown won by 53 runs
Long's SuperValu NW Premiership
Defeats of the top two teams in the - Coleraine and Brigade - allowed Donemana to come back into the title chase. All teams batting first won.
Bready v Donemana
Donemana 261-7 (J Frylinck 110, A McBrine 56)
Bready 244
Donemana won by 17 runs
Brigade v Eglinton
Eglinton 186 (R Wylie 32; M Simpson 3-34, J Robinson 3-35)
Brigade 109 (G McKeegan 39; C Averill 3-11, R Allen 3-20)
Eglinton won by 77 runs
St Johnston v Strabane
Strabane 207 (R Gallagher 62, P Gillespie 56); St Johnston 188 (I Macbeth 45)
Strabane won by 19 runs
Ardmore v Coleraine
Ardmore 205-8 (D Curry 69); Coleraine 133 (N McDonnell 43, G Cooke 41 not out)
Ardmore won by 72 runs.