Mark Wood column: Behind the scenes at England's Ashes party
Last updated on .From the section Cricket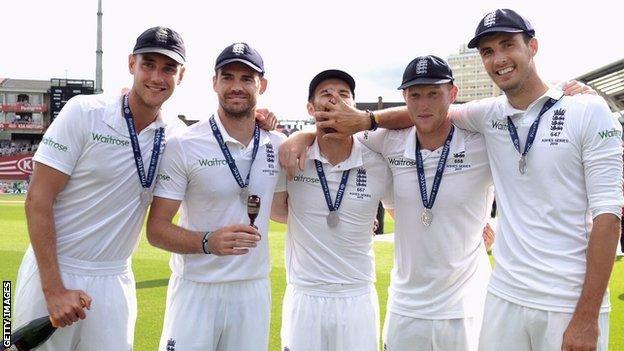 England Ashes winner Mark Wood, 25, explains what it feels like to hold the iconic urn, reveals which of the Australians is as much of a joker as he is and lifts the lid on England's celebrations.
Mark Wood, Ashes winner. Those are four words I never expected to hear.
At the end of the final Test at The Oval, there were mixed emotions because we had lost the match, but once we got our hands on the urn all that was forgotten.
Mind you, we had to wait a while. As we gathered on the podium in front of the pavilion, the famous little trophy we'd been playing for was right in front of us, the cameras were all lined up and everyone in the stands was watching. But Alastair Cook's interview with Michael Atherton seemed to be going on forever.
While they were chatting, we were given Champagne bottles to spray, but I politely declined. Last time I had a bottle of bubbly in my hands was with the Durham team and I nearly blew my own head off with the cork!
When Cookie finally lifted the urn, everything got let out - all the tension, all the pressure, all those worries. It was ecstasy.
A spot of dressage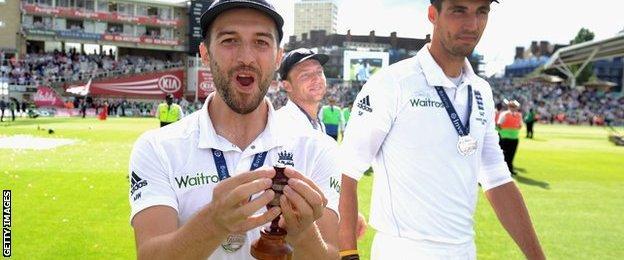 As soon as Cookie got off the podium I think I was the first to grab the urn off him.
My first impression was that it's even smaller than I thought it would be. It's like a little ornament you would put on the mantelpiece. The matches are so big, the pressure is so big, every wicket and every run is so big, and yet the urn is absolutely tiny.
It's a bit of a contrast, but if that's what we're playing for, that's what we're playing for. We all know the rich history attached to it and the great players who have held it aloft. It was brilliant to have it in my hands.
This time round, I didn't really want to bring out my imaginary horse. It didn't feel right, but the lads were egging me on. They all got in a semi-circle and started clapping.
The cameras were all lined up and I realised they weren't going to stop unless I did it, so I jumped on and did a little dance. It wasn't a big ride round the bend like at Trent Bridge, it was more like a spot of dressage.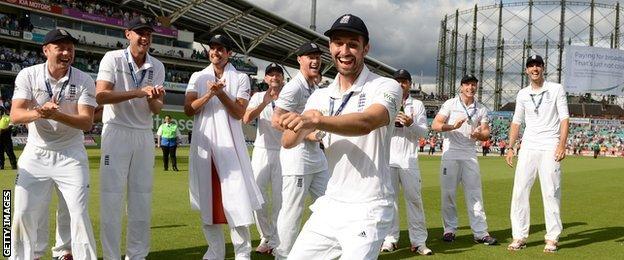 The Ashington lads
The real highlight was seeing my mum, dad and four of my best mates in the crowd. It took me a while to spot them, but I had a big surge of emotion when I picked them out.
I've never seen my mates cry but two of them had tears in their eyes. They've been playing cricket with me since I was a kid. My mum and dad used to take me round the country to play and have done everything for me over the years. None of us could believe this was happening.
With the lap of honour complete it was time to for everyone to gather in the dressing room, with partners, family and friends.
My Ashington mates certainly made a lasting impression. They put Joe Root's cricket gear on, tucked into the Champagne and jumped in the ice baths. One of them even asked Cookie for some tips for his next innings with Ashington second XI.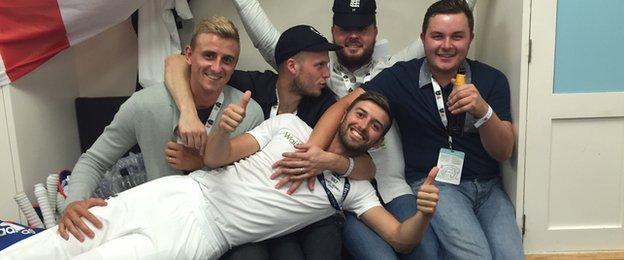 Cutting loose
When the families left, the Australian players came in and suddenly all the tension that had been there throughout the series disappeared. Out on the field, the opposition might seem a bit fierce, but they are just normal guys and after the series you can lose all that bravado.
I got on really well with Peter Siddle, who is a bit of a joker like myself, and it was great to hear Michael Clarke telling all the stories of the 2005 series when my old mate Steve Harmison was in full swing.
I also had a good chat with Nathan Lyon because we were both our teams' nightwatchmen. He was giving me some tips on how to avoid Dale Steyn and Morne Morkel in our upcoming series in South Africa.
Once the Australians left, it was time to really cut loose. We sang the team song and songs about every player and member of the coaching staff. I couldn't speak the next day. My throat was killing from so much singing and jumping around.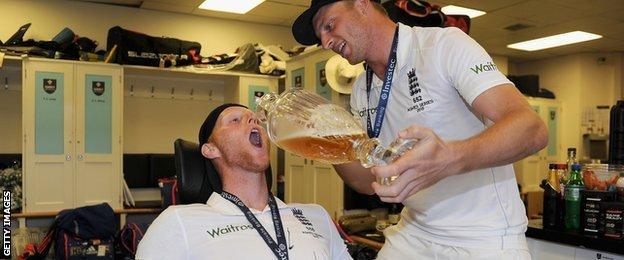 Glassy eyes, practical jokes
After a quick scramble for souvenir stumps, shirts and other memorabilia, we left the dressing room still in our whites and headed back to the hotel where a party had been organised for us in the penthouse suite.
All the bigwigs from the ECB were there, including director of cricket Andrew Strauss and all the selectors. But it was only about 10 minutes before we all started singing again. You are on that much of a high you just don't want to come down.
By about 1.30am I was so knackered I had to go back to my room. Stokesy was desperately trying to drag me out but I'd done that much singing and dancing that I had nothing left to give.
There were certainly some glassy eyes in the morning. Poor old Stuart Broad wasn't a happy man. Someone had cut the bottom of his kit bag open and as he picked it up, everything fell out.
I think Jimmy Anderson is the prime suspect, but Joe Root and Stokesy are also in the mix. No-one is owning up yet, but fast bowlers have long memories so I'm sure Broady will be getting his own back at some point.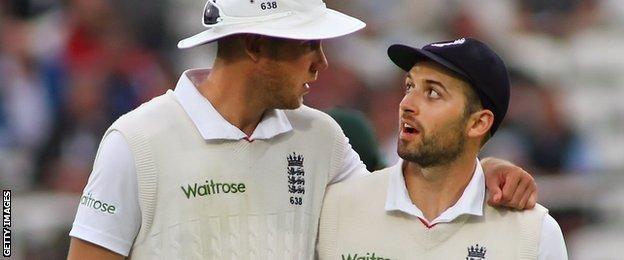 Match-winning performances
After the match, it was good to see my name in the squad for the one-day series.
Going into the final Test there was a lot of chat about my ankle, but it felt pretty good during the match and I think I bowled as well on the first day as I had done all series.
I've spoken to Cook and Trevor Bayliss about how we go forward. We've decided there's no point in doing anything while it's feeling OK.
After the one-dayers, my focus will be the winter tours to the United Arab Emirates to play Pakistan and then to South Africa. They are two of the best teams around and it will be a huge challenge to test myself against some of the best players in the world in their own conditions.
We're still developing as a team but I'm very excited about what we can achieve. Before the Ashes hardly anyone gave us a hope, but when it really mattered we had individuals who stepped up and produced match-winning performances.
It was a blow to lose at The Oval, but in the grand scheme of things it doesn't change a thing.
Mark Wood, Ashes winner. It has a nice ring to it, doesn't it?