Weekend cricket results
Last updated on .From the section Cricket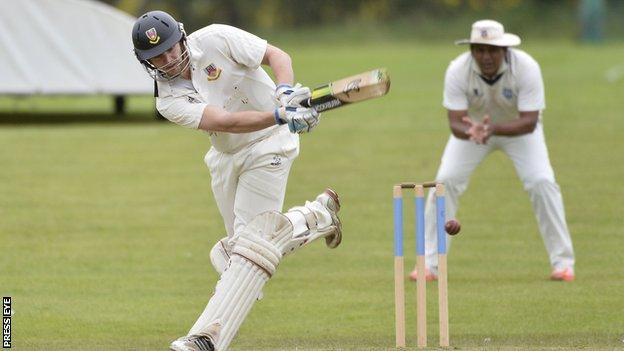 Sunday 30 August
Ulster Bank Premier League
CIYMS v Instonians
An undefeated 101 by James Shannon helped Instonians to a 51 run victory over CIYMS at Belmont. The Irish International faced 95 balls and hit four sixes and seven boundaries.
There was little at stake in this game as the Ulster Bank Premier League title is a matter between Waringstown and North Down and Ballymena have been relegated.
Instonians 233-4 J Shannon 101 no
CIYMS 182 (48 overs) C Dougherty 44, T Smith 29, J Magee 4-14
Instonians won by 51 runs
One Day Inter-Provincial - North-West Warriors v Leinster Lightning
Due to a waterlogged pitch at Strabane the Inter-Provincial has been abandoned. Each side earns two points but Leinster Lightning had already clinched the title.
Saturday 29 August
Ulster Bank Premier League
Ballymena v Carrickfergus
Ballymena 146 A Ghumann 51
Carrickfergus 83-2 M Gilmore 35 no
Carrickfergus won by 27 runs (D/L) and Ballymena are relegated
North Down v Lisburn
Lisburn 74 J Mulder 5-15
North Down 75-3
North Down won by seven wickets
Waringstown v CIYMS
CIYMS 68 P Eaglestone 4-19
Waringstown 70-8
Waringstown won by two wickets
Waringstown and North Down are joint leaders with the former having a game in hand. CI are now virtually out of contention with two games to play but eight points behind Waringstown.
Instonians v CSNI - match postponed
Long's Supervalu NW Premiership
Coleraine need to win their final game of the season at Brigade next Saturday to clinch the championship. Should they lose then there will be a play-off between the two teams at a neutral venue.
Bready v Brigade
Bready 153
Brigade 154-5
Brigade won by five wickets
Eglinton v Strabane
Strabane 142 A McDermott 46
Eglinton 144-4 A Pierce 41 no
Eglinton won by six wickets
Ardmore v St Johnston - Reduced to 30 overs
St Johnston 156
Ardmore 157-7 F Mutiezwa 86no
Ardmore won by three wickets
Coleraine v Donemana
Coleraine 132-9 G McCarter 40, K Vardhan 30
Donemana 55 A McBrine 14, extras 20, J Barnes 4-17
Coleraine won by 77 runs