Swalec Stadium pitch 'in focus' for T20 internationals - Hugh Morris

By Nick Webb
BBC Sport Wales
Last updated on .From the section Cricket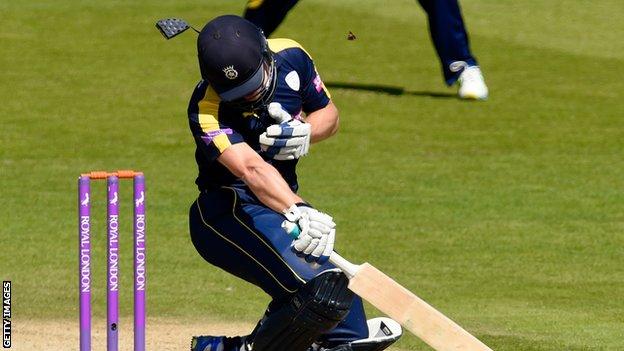 Glamorgan chief executive Hugh Morris expects the Swalec Stadium pitch to be in the spotlight for the T20 double-header between England and Australia.
"It's obviously something people will focus on," Morris told BBC Wales Sport.
"But we are confident we have produced a pitch that will be a good track for Twenty20 cricket."
Glamorgan have parted company "by mutual consent" with head groundsman Keith Exton, with his assistant Robin Saxton stepping up to take charge of the international pitch preparations.
The women's final Ashes encounter is followed by a one-off T20 match for the men.
"People will talk about it, but we have a good deal of faith in Robin and his two assistants," added Morris.
The county will consider both external and internal applicants for the head groundsman job at the end of the season, with just one more Glamorgan home game to come.
The problems with the One-Day Cup pitch followed the same strip being judged "poor" last year, with Glamorgan being docked four points in total, as well as Hampshire being awarded the victory points from the abandoned game.
But Morris is keen to stress Exton's contribution since 2009 despite his immediate departure.
"It was mutually agreed, which was important because Keith has played a really important role here," Morris said.
"He has played a significant role in making sure we established ourselves as a category A ground, and has prepared two good Ashes pitches.
"In the discussions we had with Keith, it was felt it was the right time for him to move on and we thank him for the work he's done here."
It has now been revealed that the external analysis of the rogue strip will result in it being dug up and not used for Glamorgan matches for three years.
The England and Wales Cricket Board has already announced the allocation of international matches up until 2019, but Morris is now hoping the county's actions will make sure the incident will not adversely affect their future chances.
"We are very confident that by implementing the recommendations of this report, we'll make sure that any challenges we've had with pitch nine will be sorted out," Morris said.
"We've successfully held major matches here for a period of time... and we're confident we'll continue to do that as far as international cricket is concerned."
Morris has also described the Welsh county's current finances as "our best year for some time" but is unwilling to predict an annual profit yet.