Alastair Cook persuaded to stay as captain by Trent Bridge Ashes win
Last updated on .From the section Cricket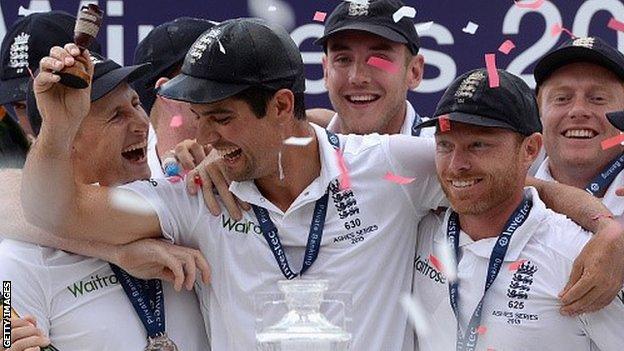 Alastair Cook has revealed how England's Ashes-sealing win at Trent Bridge persuaded him to stay on as captain.
The 30-year-old wants to build on that success this winter on tour against Pakistan and South Africa.
"Seeing that potential after Trent Bridge was when I knew I wanted to carry on," he told BBC Radio 5 live.
Speaking on the Tuffers and Vaughan Cricket Show, he added: "Michael Vaughan might know better than me about when it's time to walk away from the captaincy. Before Trent Bridge, I'd not made my mind up.
"It's such an honour to lead the other 10 blokes with all the stuff that goes with it. While I have that hunger and drive to do it, and while I'm wanted, I will continue to do it."
Last summer former England captain Vaughan called for Eoin Morgan to replace Cook as captain, and a 5-0 Ashes series whitewash in 2013-14 was followed by a home series defeat by Sri Lanka as the team went 10 matches without a victory.
Cook remained as Test captain, but after losing a one-day international series in Sri Lanka 5-2, he was replaced by Morgan and sacked as ODI skipper in December, less than two months before the World Cup.
"Over the last 18 months a lot's happened. Naturally, you can get a bit tetchy in interviews sometimes and if I was I'm sorry," he said.
"I've opened my ears to what other people have to say about my captaincy. If we'd lost the Ashes, it might have been a natural time for someone to come in and replace me, so maybe the thought of that freed me up a little bit.
"I've learned that you just don't know what's around the corner and I'm determined not to look too far ahead.
"The game has developed even during my time as England captain, but while it's still socially acceptable to score 100 off 250 balls, or to leave a ball when you're batting in a Test match, I might still have a chance to keep playing."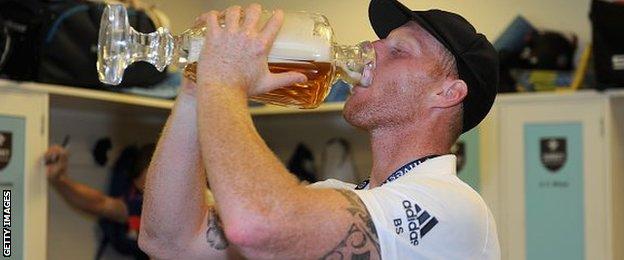 Ben Stokes is England's 'heartbeat'
Joe Root took many of the plaudits this summer for his weight of runs and rightly so, according to Cook. But he feels Ben Stokes' emergence as a match-winning all-rounder is one of the biggest reasons for optimism.
"Ben is the heartbeat of this side, along with Joe Root and Jos Buttler," Cook said. "They are easy-going guys but with that absolute determination and desire to win, so it's great to have them around.
"You've seen a huge change in Ben in the last six months in terms of his leadership. He's a real leader of the team, he's finally feeling comfortable in the England shirt because it takes people time as it's such a different environment.
"With players like that in the side, I don't think we've reached the pinnacle of where we can get to."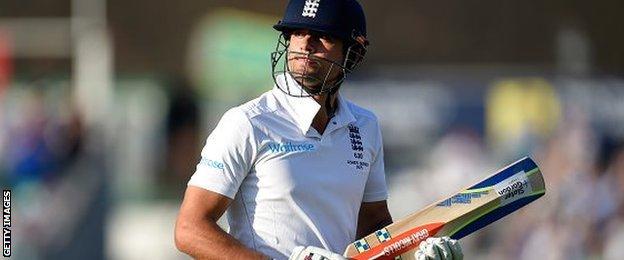 Winter reality check
Cook says England will discover how good they really are during the winter.
They set off at the end of September to face a Pakistan side unbeaten in Tests in the United Arab Emirates, before playing the world's top-ranked Test side South Africa in a four-match series from the end of December.
Cook believes his side have the ability to "blow sides away quickly and change games", but that they need to become harder to beat.
"We had a couple of low scores in the Ashes," he said. "The Oval one wasn't great but it was kind of understandable given the state of the series, but still not acceptable.
"It's a trend that's a bit frustrating for this side. You're not going to win a test match by losing seven wickets in a session and it's something we need to knuckle down on. When a couple of wickets go down, you need guys in the team who will stick their hands up to get you out of a hole.
"With all the good stuff being spoken about English cricket, there will inevitably be some tough times ahead as well and our consistency has to get better."
| England's winter Test schedule 2015-16 | |
| --- | --- |
| 13-17 Oct: First Test v Pakistan, Abu Dhabi | 22-26 Oct: Second Test v Pakistan, Dubai |
| 1-5 Nov: Third Test v Pakistan, Sharjah | 26-30 Dec: First Test v South Africa, Durban |
| 2-6 Jan: Second Test v South Africa, Cape Town | 14-18 Jan: Third Test v South Africa, Johannesburg |
| 22-26 Jan: Fourth Test v South Africa, Centurion | |