Waringstown in league and cup double
Last updated on .From the section Cricket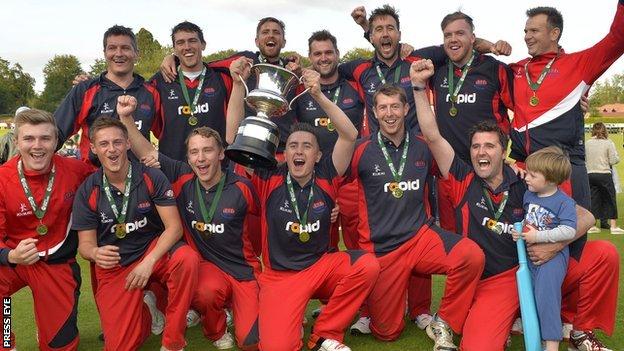 Waringstown have won the Irish Senior Cup and been crowned Ulster Senior League champions on the same day.
They beat Merrion by 107 runs in the cup final at the Lawn - and captured the league title as a result of North Down's defeat by Instonians.
After posting 276-7, the village side dismissed Dublin team Merrion for 169.
North Down had been Waringstown's nearest rivals in the league but their hopes ended when Instonians reached a target of 111 for a six-wicket win.
Irish Senior Cup final
Waringstown v Merrion
Waringstown 276-6 (G Thompson 78, L Nelson 44: D Joyce 4-62); Merrion 169 D Langford-Smith 69, M Lewis 52 not out; J De Villiers 4-23)
Waringstown won by 107 runs
Ulster Bank Premier League
Carrickfergus v CIYMS
CIYMS 195 (N Burns 43, N Jones 42); Carrickfergus 165
CIYMS won by 30 runs
CSNI v Ballymena
Ballymena 190-8 (M Taylor 44; S Ross 4-34); CSNI 191-1 (R West 101 not out, J van der Merve 62 not out)
CSNI won by nine wickets
Instonians v North Down
North Down 110 (J Magee 4-27); Instonians 111-4 (F Iqbal 32 not out)
Instonians won by six wickets
Long's SuperValu NW Premiership
Brigade v Coleraine
Coleraine 154 (N McDonnell 53 not out; I Hussain 4-37); Brigade 156-9
Brigade won by one wicket
Brigade and Coleraine now face a play-off at Eglinton next week-end to establish the championship.
St Johnston v Eglinton
St Johnston 155; Eglinton 128
St Johnston won by 27 runs