Ben Stokes: England all-rounder defends Lord's role

By Joe Wilson
BBC News sports correspondent
Last updated on .From the section Cricket
Third ODI: England v Australia
Venue:
Old Trafford
Date:
Tuesday, 8 September
Start time:
14:00 BST
Coverage:
Live Test Match Special radio and text commentary on BBC Radio 5 live sports extra & BBC Sport website, plus desktop, tablets, mobiles and app
England's Ben Stokes insists he did not "wilfully" handle the ball in the incident that led to his controversial dismissal against Australia.
Stokes, 24, was given out 'obstructing the field' after Mitchell Starc's throw hit him on the hand during Australia's one-day win at Lord's on Saturday.
Australia skipper Steve Smith said all-rounder Stokes was "blatantly out".
Stokes told the BBC he did not think "any human being" would have time to think about wilfully stopping the ball.
Australia have a 2-0 lead after two of five one-day internationals.
Stokes, who became the first England batsman - and sixth overall - to be dismissed obstructing the field in a one-day international, said he hoped it would not create any "bad blood" between the two teams.
The Durham all-rounder, speaking at a Chance to Shine street cricket event in Birmingham, said: "I hope it doesn't get turned into bad blood just out of that one little situation.
"But who knows, once I step over that line things might change. I hope it doesn't get blown out of proportion and takes away from the cricket side of things."
The incident occurred when Stokes left his crease after driving the ball back to Starc. The left-arm pace bowler threw the ball towards Stokes in an apparent attempt to hit the stumps at the striker's end and run him out.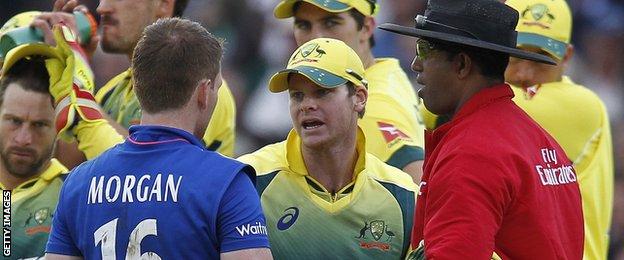 Stokes, who was dismissed after making 10 runs, stopped the ball with his hand as he turned and dived to regain his ground.
Starc appealed for the dismissal, and Stokes was given out by the by television umpire Joel Wilson.
Smith and England captain Eoin Morgan then became engaged in a heated exchange on the field as boos rang out around the ground. Morgan later said he would have withdrawn the appeal had an England bowler done the same thing.
Asked whether an Australia apology would help defuse any tension, Stokes added: "It would not be doing me any good, or any bad.
"You know, I'm over it now, the only thing is I think it's just maybe taken the attention away from the fact we haven't played our cricket up to the standard we want to."
Stokes also hoped it would not create precedent with bowlers trying to get wickets in the same way in the future, stating: "That wouldn't be great for the game."
The two teams meet again in the third one-day international at Old Trafford on Tuesday.
England's Australian coach Trevor Bayliss said it was time to move on from the Stokes incident.
He said: "I just thought it was two teams trying to win the match for their respective teams and playing with a bit of emotion. It's good to see a bit of emotion in a match.
"We were a bit disappointed at the time but by the time we left everybody was in good spirits and looking forward to the next match."
Australia batsman Aaron Finch said: "If someone is throwing a ball at you, your natural instinct would be to put your hand up and try and defend yourself, so Australia are within their rights to appeal but they don't make the decisions."
Finch replaces the injured David Warner, who has a fractured thumb, while England have brought in Yorkshire wicketkeeper Jonny Bairstow for the rested Jos Buttler.
Law 37 - Obstructing the field
1. Either batsman is out obstructing the field if he wilfully attempts to obstruct or distract the fielding side by word or action. In particular, but not solely, it shall be regarded as obstruction and either batsman will be out... if while the ball is in play and after the striker has completed the act of playing the ball... he wilfully strikes the ball with (i) a hand not holding the bat, unless this is in order to avoid injury, or (ii) any other part of his person or with his bat.
2. It is for either umpire to decide whether any obstruction or distraction is wilful or not. He shall consult the other umpire if he has any doubt.
Read more from the
Laws of Cricket