County Championship: Yorkshire make most of Gillespie guidance

By Kevin Howells
BBC Radio 5 live
Last updated on .From the section Cricket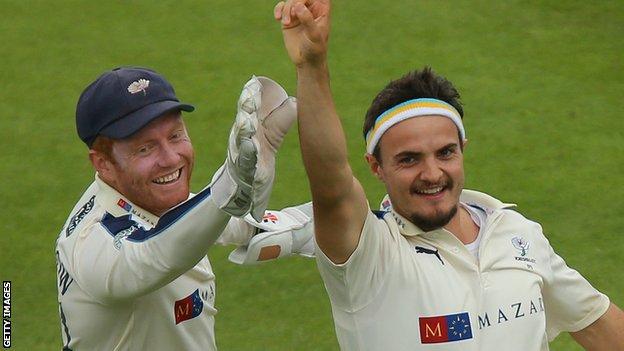 When Yorkshire dominated the County Championship in the 1960s, the idea of an Australian in the dressing room, except as a visitor, would have been unthinkable.
In those days, if you were not Yorkshire-born, Yorkshire-bred, pursuing a cricket career at Headingley was out of the question.
Times have changed, but the White Rose county are again the dominant force in the four-day game, thanks in no small measure to head coach, and former Australia paceman, Jason Gillespie.
A second consecutive title is in the bag with more than two games to spare. So what are the reasons behind Yorkshire's success?
Gillespie's #strongunit
Leadership appears to come naturally for Gillespie. Front of house, he is extremely engaging - but he wasn't always so as a player, and is not a man I would like to cross.
Gillespie's often used #strongunit on Twitter does actually mean something and twice this season he has dropped players for breaking the club's disciplinary code.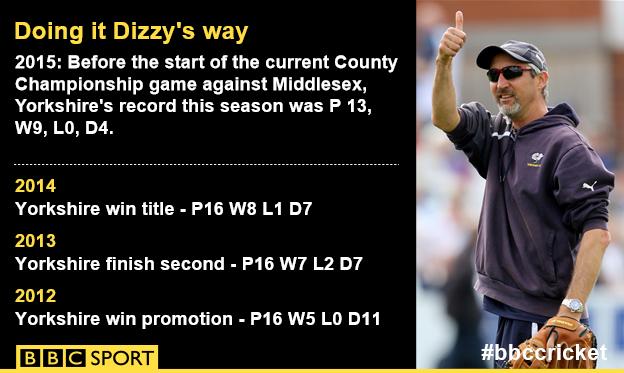 Details of what Liam Plunkett and Glenn Maxwell did are unimportant, but I've known identical incidents being either ignored or more quietly dealt with. That's not for Gillespie. His action plan is if rules are broken, players are dealt with there and then, and everyone moves on.
Is that why Yorkshire won the Championship? Of course not, but what drives the club is an atmosphere of equality.
"There are always ways to improve and make yourselves better" is a phrase he uses regularly to players and fellow coaches.
He is not the finished article himself, and his time at the Big Bash with Adelaide Strikers this winter will see him return with more knowledge and experience which the club needs in limited-overs cricket.
Gillespie is an inclusive man, who makes the job looks simple, but his bond with the club was tested when he was strongly linked to England back in May, with the county season only a month old.
How would the champions cope without him? That's a question for another day.
Bairstow's purple patch
Yorkshire's batting strength in depth has been tested this summer by England calls for Joe Root, Adam Lyth, Gary Ballance and latterly Jonny Bairstow.
Bairstow's form which earned him recognition at Ballance's expense was exceptional, taking just 13 innings to pass 1,000 runs, and hitting five centuries.
And Tim Bresnan, now seemingly out of the Test picture, averaging over 50 shows how the middle order have often needed to perform well.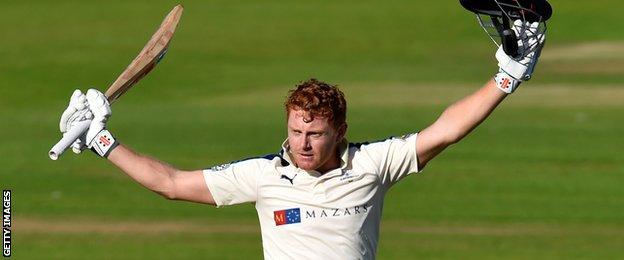 Overseas signings have contributed in one form of the game or another, if not as consistently as they would have liked, notably Maxwell's 140 in a stand of 248 with Adil Rashid at Scarborough that took a crazy game away from Durham.
Lyth was missed more than most, but if England decide to look elsewhere for an opener, his return will be very important as Yorkshire seek a third straight title next summer.
Experience and variety
In terms of bowling bonus points won, Yorkshire's tally is similar to other sides.
Taking nine first-innings wickets is something most attacks can achieve, but it is the devastating manner in which Yorkshire have taken them that has been so significant.
Ryan Sidebottom, injured for a large chunk of the season, and Jack Brooks have both taken five wickets in an innings three times, Steven Patterson twice, Tim Bresnan once, and even the available-when-wanted James Middlebrook has done so.
It is an attack which covers most bases, although having Plunkett available more often would add to their potency on flat pitches.
Yorkshire also have enough options to rest players, even if those rested do not always like it.
Smaller bowling units at other clubs could not cope with the amount of cricket they were playing when the T20 Blast and One-Day Cup started interweaving with the Championship, and it showed clearly by mid-August.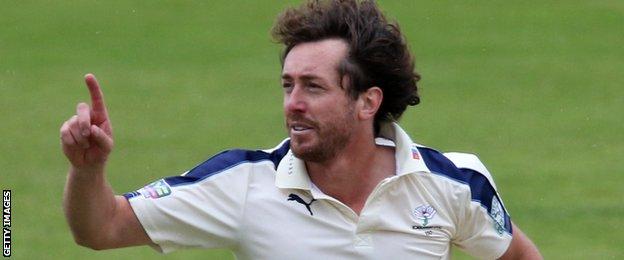 Polishing the diamonds
The sheer number of talented youngsters turning up at clubs and Yorkshire's academy are privately, and sometimes publicly, envied by other clubs.
Pace bowler Matthew Fisher, one of the exciting teenage prospects breaking into the first team, comes from village club Sheriff Hutton Bridge, who have 60 to 80 youngsters getting involved on Friday nights.
Director of development Ian Dews told me: "The 10 and 11-year-olds in the winter nets are unbelievable.
"We have not done the work with them to that point, that's the clubs and their coaches providing us with the raw natural talent. We are polishing the diamonds, we are not finding them."
At the same time as the senior side were being knocked out of the One-Day Cup by Gloucestershire in Sunday's semi-final, the Academy were winning a Yorkshire League Cup.
Nearly all the first-team players sent messages of congratulations to the youngsters. More evidence of #strongunit.
Building from position of strength
Northants and England all-rounder David Willey has already been signed for next season and he is a perfect fit for the club.
Yorkshire's success in Championship cricket has not been matched in the limited-overs game and Willey is someone who can help correct that, but performances in the four-day game are the way for him to fulfil his goal of playing Test cricket like his father, Peter.
The club puts a big emphasis on character. When young players first arrive they are told 'from now on you are a Yorkshire cricketer 24/7'. It's another example of inclusivity.
Chief executive Mark Arthur plays his part by taking senior players to visit club sides over the winter. He wants them all to feel the county side represents them.
And director of cricket Martyn Moxon provides another steady hand on the tiller, making sure the building blocks stay strong.
The message from Headingley is that everyone involved with cricket in the county must feel part of the Championship success.
So far, Yorkshire appear to have kept an ambitious squad of players satisfied. That is not easy but, if they continue to do so, it will take a very good side to prevent them achieving a title hat-trick in 2016.