ICC World Cricket League: 'Even the Norwegians find it cold'
Last updated on .From the section Cricket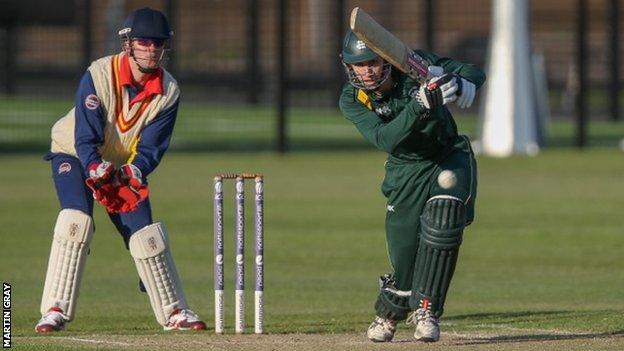 It's not often that international sportsmen from exotic, far-flung places like the Cayman Islands, Fiji and Vanuatu are to be found milling around the small Essex towns of Frinton-on-Sea, Halstead or West Mersea.
But until Sunday, the east of England county is giving some of cricket's less glamorous nations the chance to climb the game's rankings and begin a bid to reach the World Cup.
Essex is hosting the ICC World Cricket League Division Six, a 50-over competition for International Cricket Council (ICC) associate and affiliate members, with promotion and relegation at stake.
The various divisions typically have eight teams, but this time there are only seven as Saudi Arabia failed to turn up.
This is not the first time Essex has been entrusted with an ICC event.
2015 ICC World Cricket League Division Six teams

Guernsey

Vanuatu

Suriname
Norway

Fiji

Cayman Islands

Botswana
Saudi Arabia
"Over the last year we have had the opportunity to host a couple of ICC tournaments," Essex County Cricket Board cricket development manager Graham Pryke told BBC Essex.
"One was an Under-19 event, one a European event and fortunately through our great club network the clubs were able to host it in a very, very satisfactory way.
"I think the ICC were really pleased, not only with the grounds and facilities, but also the coordination and left the countries that visited having a great time."
One of the names that sticks out in the list of participants is the South Pacific island of Vanuatu, a country with a population akin to the London borough of Hounslow and which was devastated by a cyclone earlier this year.
However, one of their players, Callum Blake, says their cricketing prowess should come as no surprise.
"It's quite unusual to think of Vanuatu as having a cricket team but it's quite popular over there - there's thousands of kids that play it in schools," he said.
"The grounds that we play on, one is on a massive slant, bigger than Lord's, and the others have crabholes everywhere so it's hard to field."
Vanuatu
A South Pacific Ocean nation made up of roughly 80 islands over 1,300km
Total population: 266,937
Official languages: French, English, Bislama
Achieved independence from France and Britain in 1980
Find out more
Vanuatu faced Norway in West Mersea on Tuesday, so you might expect the Scandinavians to have the edge, playing in the sorts of temperatures they are used to.
But the islanders won by four wickets on the coast with a chilly breeze coming in off the sea.
"Even our Norwegian friends are finding it cold, which I'm still finding hard to believe," said Pryke.
"Certainly from our friends from the southern hemisphere where they play in temperatures of at least 30 degrees all year round - it's quite a shock to them, not only the temperature, but also anyone playing cricket has to deal with a totally different pitch which is wetter.
"There's a lot of dew first thing in the morning which affects the way the ball performs, but you'd hope the best players would adapt and show their true skills."
Norway is another country not on the radar of most cricket fans - but that does not reflect the game's popularity back in Scandinavia.
"It's been the fastest growing sport in Norway for the last four or five years," said Norwegian Cricket general secretary Espen Andre Johansen.
Thursday's fixtures

Botswana v Fiji at Coggeshall

Cayman Islands v Norway at Feering

Guernsey v Suriname at Halstead
"We have almost 5,000, mostly in the Oslo region. But still not many people know what cricket is, so it's our job to tell them.
"The better the national team does, the more media coverage we get. If we do well, we'll be able to play tournaments every year."
Norway are newcomers to the World Cricket League and are desperately trying to avoid relegation, while the 'home' Guernsey team are one of the favourites for promotion.
The islanders were relegated from World Cricket League Division Five in Malaysia last year, and are hopeful that English conditions can help them return to the same league as fierce rivals Jersey.
"Essex in September is far preferable to Malaysia in February from the cricket perspective," said chief executive of Guernsey's cricket board Mark Latter in July.
"We can go straight there off the back of our own season so we're prepared as well as we could be rather than going out to 80% or 90% humidity having not lifted a bat for eight months."
Whether followers of Fiji, Suriname or Botswana make Chelmsford a frequent holiday destination remains to be seen, but all will be hoping to make Sunday's final there and create a little piece of Essex sporting history.
Interviews by Victoria Polley.