Geraint Jones: Retiring ex-England wicketkeeper 'dared to dream'
By Kalika Mehta
BBC Sport at Lord's
Last updated on .From the section Cricket
Gloucestershire batsman Geraint Jones said he 'dared to dream' he would walk away from cricket a champion in the days leading up to the One-Day Cup final.
It was the Bristol-based club's first trophy in 11 years following a finale that brought back memories of England's two-run Ashes victory at Edgbaston in 2005 for Jones.
Fairytale ending for Jones
"It was something that I was telling myself since we got to the knockout stages; just dare to dream and who knows," the elated 39-year-old said.
"Very few people get to walk-off and lift a trophy and look back on such a great day.
"It was a bit different to 2005 as I was down on the boundary watching it from afar, having spent my whole career in the thick of it in the middle.
"The tension was similar but when we got Sam Curran out early in the final over, I actually felt very relaxed. I just thought this could be destiny.
"I feel very lucky to finish this way."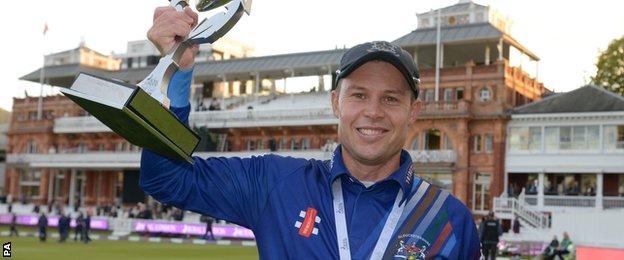 Captain sees 'big future' for young side
The Gloucestershire team on Saturday had an average age of just 24 - discounting Michael Klinger, 35, Hamish Marshall, 36, and 39-year-old Jones.
When captain Klinger trudged off the Lord's pitch just three balls into the day's play, there was a concern the inexperienced team would be unable to recover.
Yet it was the youngest member of the side, 21-year-old Jack Taylor, who picked up the man-of-the-match award after his impressive performances with bat and ball.
"This team has the makings of something special," Klinger said.
"Winning a trophy has come a bit quicker than expected but I said to the boys before the quarter-final that sometimes you win before you are ready and it's just your time.
"We showed in this competition that we can perform well under pressure and there is certainly a big future for us.
"Now we have a great opportunity for us to keep building on the win for the next couple of years."
Batty admits mistake at toss
A distraught captain Gareth Batty shouldered the blame for Surrey's loss after choosing to bowl having won the toss.
Prior to Saturday's match, the 37-year-old had won the toss five times during this season's competition, deciding to bat every time and clinching wins in each match.
And taking a surprising gamble to put Gloucestershire in to bat at Lord's failed to paid off for Surrey - however, Batty praised 17-year-old Curran who hit 37 runs off 39 balls showed again why many see him as a future England talent.
"Ultimately we lost the game of cricket because I changed the formula with the toss," explained Batty.
"I made the decision and we lost having played very well in this competition.
"You see certain characters in cricket that don't come along very often.
"They're chucked in at a higher level and they just thrive within it and Sam is one of those guys.
"You do not get these sorts of cricketers coming along very often.
"He has the temperament for whatever is thrown at him. He will go on to be a genuine all-rounder."