Jagmohan Dalmiya: India cricket board president dies aged 75
Last updated on .From the section Cricket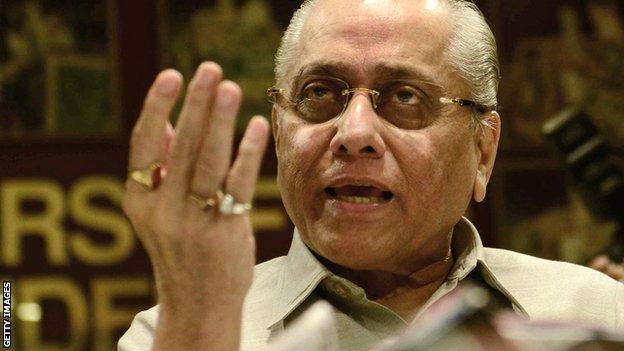 Jagmohan Dalmiya, president of the Board of Control for Cricket in India, has died following a heart attack.
He served as president of the BCCI from 2001 to 2004, taking on the role on an interim basis in 2013 and returning to it full-time in March 2015.
Dalmiya was also president of the world governing body, the International Cricket Council, from 1997 to 2000.
Among the many in the cricket world paying tribute, legendary ex-India batsman Sachin Tendulkar tweeted: "Heartfelt condolences to the family & friends of Jagmohan Dalmiya. Had met him in June. Little did I realise that it would be the last.
"Will always cherish his encouragement & support over the years. Worked hard for the game of cricket & excelled as an administrator."
A leading cricket administrator in his native Bengal for many decades, Dalmiya joined the BCCI in 1979 and was one of the men credited with bringing the World Cup to the subcontinent for the first time in 1987.
His recent return to the BCCI's top job came after previous incumbent Narayanaswami Srinivasan was forced by India's Supreme Court to step down over a conflict of interests.
Srinivasan, who owns Indian Premier League team Chennai Super Kings, was barred by the court from standing again as BCCI president - but took over as chairman of the ICC in June 2014.