Eoin Morgan & Mark Wood given central contracts by ECB
Last updated on .From the section Cricket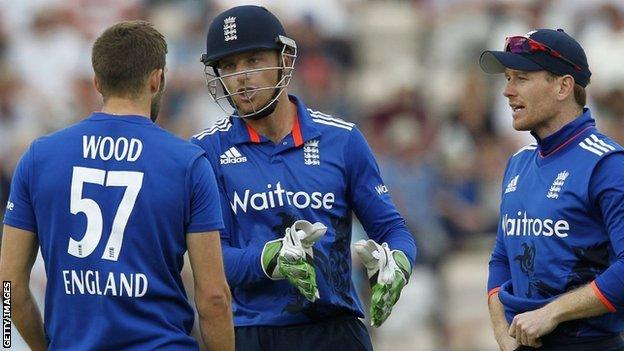 England one-day and Twenty20 captain Eoin Morgan is one of 11 players to have been given a central contract by the England and Wales Cricket Board.
Durham fast bowler Mark Wood has won a central contract for the first time.
In addition to the 11 central contracts for 2015-16, the ECB has also awarded eight incremental contracts.
Gary Ballance, Chris Jordan and Chris Woakes, who held full central contracts for 2014-15, are among the players given incremental deals for 2015-16.
England play Pakistan in the United Arab Emirates in October and November, then tour South Africa in the winter before the World Twenty20 is held in India in March and April.
"Eoin Morgan's award reflects his status as captain of our limited-overs teams and the wider importance we place on white-ball cricket," said ECB director of cricket Andrew Strauss.
"We congratulate Mark Wood on winning a central contract for the first time.
"This award reflects his excellent performances for England this summer and our expectation that he will have a role to play in all three formats of the international game over the next 12 months."
Adam Lyth and Jason Roy, who earned incremental deals by virtue of the number of matches they played last season, have been left off the new list.
Meanwhile Ravi Bopara and James Tredwell, who did not represent England over the summer, also miss out having held incremental deals for 2014-15.
Centrally contracted players: Moeen Ali (Worcestershire), James Anderson (Lancashire), Ian Bell (Warwickshire), Stuart Broad (Nottinghamshire), Jos Buttler (Lancashire), Alastair Cook (Essex), Steven Finn (Middlesex), Eoin Morgan (Middlesex), Joe Root (Yorkshire), Ben Stokes (Durham), Mark Wood (Durham).
Players awarded incremental contracts: Jonny Bairstow (Yorkshire), Gary Ballance (Yorkshire), Alex Hales (Nottinghamshire), Chris Jordan (Sussex), Liam Plunkett (Yorkshire), Adil Rashid (Yorkshire), Chris Woakes (Warwickshire), James Taylor (Nottinghamshire)
Central and incremental contracts
For players holding a central contract, an England retainer replaces their county salary, with the county retaining the player's registration. If the player is made available to his county, this is on a free-of-charge basis, while the county receive no compensation for the club matches they miss.
Increment contracts are for players who would be expected to play regularly in the England ODI and/or T20 teams, but who are not well-established in the Test team. The ECB pays the player a salary alongside their county deal and have a say in the amount of cricket they play for their club.
Uncontracted players can earn incremental deals by playing a sufficient number of international matches. Five points are awarded for a Test appearance, and two for an appearance in the shorter-forms. A deal is awarded once 20 points are accumulated during the 12-month contract period, which starts on 1 October.
If a player does not have a central contract, his county will receive compensation from the ECB for any matches they miss. All England players, regardless of the type of contract they are on, receive the same level of match and tour fees.