Sussex: Chris Liddle, Steffan Piolet and Ashar Zaidi leave
Last updated on .From the section Cricket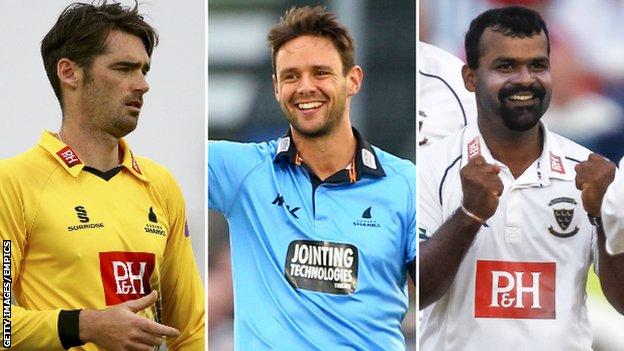 Chris Liddle, Steffan Piolet and Ashar Zaidi have left Sussex following the end of the season.
Left-arm-seamer Liddle, 31, had been at Hove since 2006 and was a regular in one-day cricket.
Zaidi, 34, made seven appearances in the County Championship this summer, scoring 354 runs and taking 11 wickets.
Fellow all-rounder Piolet, 27, played five times in white-ball cricket but has now retired from cricket to pursue a career in recruitment.
"It is always a sad time when we release any player," Sussex cricket manager Mark Robinson said.
"Lids has been with us for nine years and enjoyed much success, Ash proved to have a shrewd cricket brain and Steff was a fierce competitor."