Ben Stokes: England's latest boom or bust all-rounder
Last updated on .From the section Cricket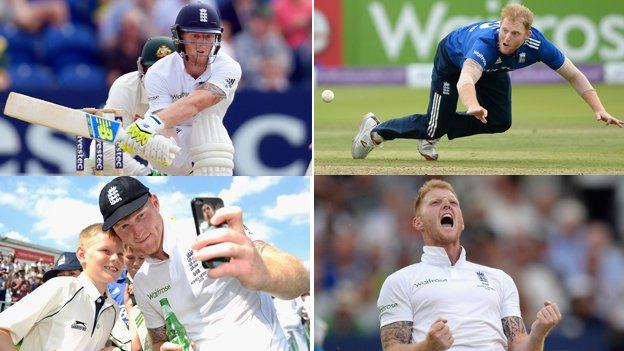 First Test: Pakistan v England
Venue:
Abu Dhabi
Dates:
13-17 October
Start time:
07:00 BST
Coverage:
Ball-by-ball Test Match Special commentary on BBC Radio 5 live sports extra, Radio 4 LW, online, tablets, mobiles and BBC Sport app. Live text commentary on the BBC Sport website
It was said of Greta Garbo's stand-in that "she has everything that Garbo has, except whatever it is that Garbo has". The point being, nobody could ever quite put their finger on what made Garbo so magnetic. She just was.
One man's Oscar-winning performance might seem overwrought to another, while a hundred runs is a hundred runs, however they are scored. And yet sports fans value mysterious magnetism just as much as film buffs. And in England, no sportsman is more mysteriously magnetic than a cricketing all-rounder.
Ben Stokes, plainspoken and down to earth, sees things in less romantic terms. "When you pay to watch sport you want to be entertained and there's nothing more entertaining than watching lads trying to whack it out of the park and bowl at 90mph," he says, ahead of England's three-match Test series against Pakistan in the United Arab Emirates, which begins in Abu Dhabi on Tuesday.
But for English cricket fans, it's not only about the brawn, but also about imponderables such as verve, timing and charisma. Whatever it is that Stokes has and potential stand-ins would sell their souls for.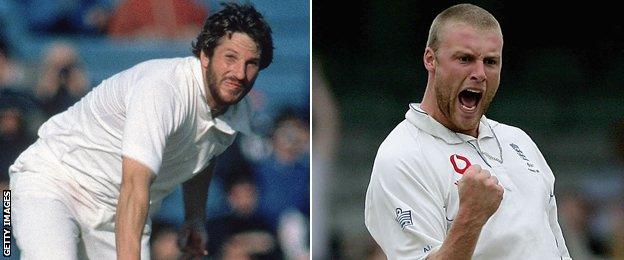 The first Test against New Zealand in May is viewed as the moment England got a grip following a disastrous World Cup and began laying firm foundations for their Ashes victory. But at 30-4 in the first innings against the Black Caps at Lord's, things looked decidedly rickety. It was only when Stokes (92 from 94 balls) and Joe Root (98) mounted a whirlwind restoration job that England really took off.
In the second innings, Stokes hit the fastest ever century at Lord's and England went on to win the game by 124 runs. England had a new hero - same as those old heroes, Botham and Flintoff: men who emptied bars when there was meant to be nothing left to see, chips were down and backs were pinned against walls.
"I like the feeling of having pressure dropped on my shoulders," says the 24-year-old Stokes, who first served notice of his ferocious spirit with a ton in only his second Test at Perth, during England's humiliating 2013-14 Ashes defeat. "I like to be thrown the ball or walk out to bat when people think it's already over.
"When we were 30-4 on that first morning at Lord's, I imagine there were plenty of people who hadn't forgotten about Kevin Pietersen quite yet. But to go from loads of people wanting him back in the team to people not really talking about him and proclaiming this England team as class, that was brilliant."
For a while, it appeared that this ferocity of spirit might be Stokes's undoing. There was a bit of bother with the law in 2011; the time he was sent home from an England Lions tour in 2013; punching a locker, breaking a wrist and missing the World Twenty20 in 2014. All stuff he's no doubt bored of being reminded of and which journalists will soon stop writing about.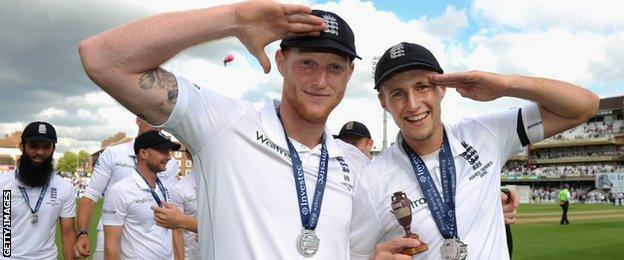 But while Stokes concedes that fatherhood has made him a calmer man off the pitch, he plans to continue letting out the reins while on it - even if it means getting involved in little bit of nonsense every now and again, such as when Marlon Samuels treated him to a naughty send-off in April.
"Having two kids is a massive responsibility [his son, Layton, was born when he was 21; his daughter Libby, was born in February] and I had to mature as a person," says Stokes. "I can't be lying about in bed until 12 o'clock after a few beers like I used to. That's one of the worst things about fatherhood, being up at seven o'clock with a raging hangover.
"When my kids get older they'll probably hear about some of the things I did and think 'what an idiot'. But I've never been advised by anyone to calm down on the field. I don't want to lose that side of my character, that aggression, because that's what gets the best out of me as a cricketer.
"I don't go looking for confrontation but I'm not going to shy away from anything. I only pipe up when it's necessary, when someone is having a go at me or someone else in the team. It's all about always wanting to feel on top."
The Durham dynamo says he gets his bold streak from his dad, Ged, a former rugby league player who won one international cap for New Zealand.
"Dad's still a fiery spirit now, trust me," says Stokes, who moved to England as a 12-year-old in 2003, when Ged became head coach of Workington Town in Cumbria.
"When I was a little kid, I'd go with Dad to training every single day, so I've always been around a professional sporting environment. He was very similar to me, in that he desperately wanted to win and had a short fuse. He always told me to always play the game for fun, but to always play the game to win."
Ged's international career was cut short by a broken neck, a no doubt traumatic experience that might also have informed the way Stokes Jr approaches his chosen game. "My attitude to life is enjoy it as much as you can," says Stokes. "Don't look too far ahead, don't dwell on the past, live in the moment."
It sounds like a manifesto for an all-rounders' society, because while all-rounders have twice the chance to boom, they also have twice the chance to bust. And you're no use to anyone sulking about that duck when your skipper needs you to blast a few batsmen out with the ball.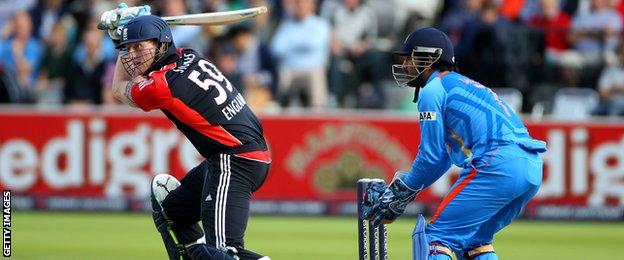 So it was during this summer's Ashes series, when after a few low scores with the bat, including successive ducks at Lord's and Edgbaston, Stokes suddenly started hooping the ball around corners at Trent Bridge, putting an end to some second-innings Aussie resistance before finishing with figures of 6-36. It was some of that mysterious magnetism, because nobody knew where it came from.
"No-one can score a hundred or take 10 wickets every game," says Stokes, who has not a hint of a Kiwi accent and sounds Cumbrian through and through.
"That's how I try to deal with things. That said, I don't accept the lean times, because I always want to do my best. I want to be a more consistent cricketer but I'm still learning the game and only just starting out with England."
Previous England regimes might have been less indulgent of Stokes's uncompromising approach. But while England's batting line-up as a whole could do with showing a bit more application against Pakistan than they did at times during the Ashes, that is not really Stokes's role.

Instead, Stokes says he is thriving on the extra responsibility of being asked to bat at number six - where an authentic all-rounder should be - and credits assistant coach Paul Farbrace, who was in temporary charge before Trevor Bayliss took over for the Ashes, with implementing a more soulful learning environment.
"Farby has this attitude: 'Do what you want to do and prepare how you want to prepare'," says Stokes, whose openness is typical of this new England set-up, in contrast to more guarded, some might say superior, outfits of recent past.
"Get your head and body and skills right, so that if things don't go well, you've got nobody else to blame. That's the best way to learn about cricket, do it yourself.
"I don't think we were getting treated like kids before, it was just a completely different way of doing things. We even started playing football in the mornings again - every county cricketer knows that you wake up in the morning ready for a kickabout."
Asked if he regards himself as an entertainer as well as a sportsman, Stokes seems stumped for a moment. It is the only time during the interview that I sense he is being less than 100% honest. Surely someone who plays cricket in such a gleefully unbridled manner must be aware of the joy he delivers, beyond a mechanical accumulation of runs, catches and wickets.
"I've never really thought about it," says Stokes. "But it would be nice to think I'm one of the cricketers fans want to sit and watch. People want to see boundaries, people want to see quick scoring and people want to see people bowl quick. At the moment, we've got a whole team that can do all that.
"The biggest difference since the World Cup [when England failed to make the knockout stages] is that the public, while they've always wanted us to do well, have really got behind us. And if people want to talk to us, we come across as how we are - just normal guys who happen to play sport for a living."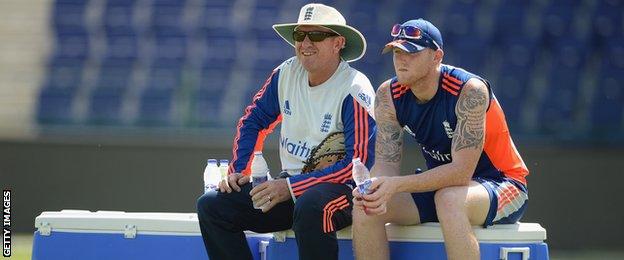 Stokes believes beating Pakistan in the UAE, where they were drubbed 3-0 in the Test series in 2012, would be as big an achievement as regaining the Ashes in England. But if one thing really gets Stokes's veins pumping, it is being underestimated. Not without reason has Ricky Ponting predicted that Stokes will be the "heartbeat of the England team" for the next 10 years.
"People are saying we haven't got a hope in hell of beating Pakistan," says Stokes. "The wickets will be slow and low and the ball will be ragging square. Beating sub-continent teams in their own conditions is one of the hardest things to do. But that's also why I'm looking forward to the series so much.
"Before the Ashes, we were written off by just about everyone - our own press, our own public. And there's no better feeling than walking off the pitch and sharing a beer in the dressing room having proved them all wrong."
Whatever it is that Stokes has, England will need plenty of it in the UAE. Whacking it out of the park and bowling fast. And more of that mysterious magnetism.