Chris Cairns 'asked Brendon McCullum to spot-fix matches'
Last updated on .From the section Cricket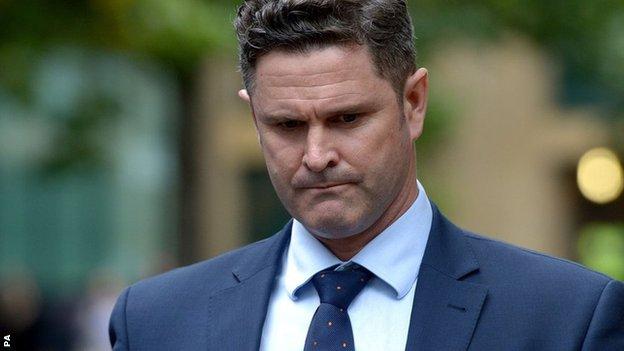 New Zealand captain Brendon McCullum has told a court he was asked to get involved in match-fixing by former international team-mate Chris Cairns.
McCullum told London's Southwark Crown Court that Cairns made the request in a hotel room in Kolkata, India, in 2008, during the Indian Premier League.
Cairns, 45, is charged with perjury and perverting the course of justice after saying he had never cheated at cricket during a libel action he won in 2012.
He denies both charges.
In 2010, former all-rounder Cairns was accused by chairman of the Indian Premier League Lalit Modi on Twitter of match-fixing two years earlier.
Cairns, who played 62 Tests from 1989 to 2004, brought a successful libel action against Modi, winning £90,000 damages.
'Business proposition'
Wicketkeeper-batsman McCullum, 34, was playing for the Kolkata Knight Riders when Cairns approached him with the "business proposition" in the hotel room in April 2008, he told the court.
McCullum, who led New Zealand to the World Cup final this year, said Cairns had told him "all the big boys are doing it in world cricket, will you take it on?"
Over a bottle of red wine and a curry, Cairns drew a diagram on a piece of paper explaining how spot-fixing worked, McCullum told jurors.
The court heard McCullum was "shocked" by the request from "a friend I looked up to and someone I trust".
The names of fellow New Zealand players Daniel Vettori and Jacob Oram were mentioned during the meeting, McCullum said, but Cairns told him "they did not have the balls to do it".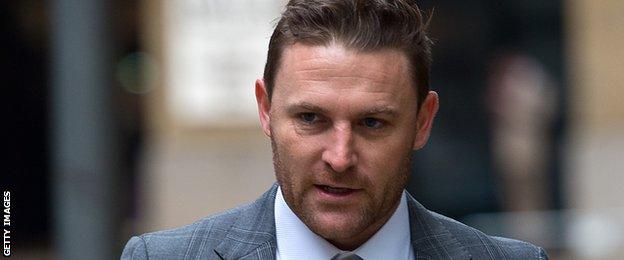 He also said "Asian names" were mentioned and that Cairns had said "between $70,000 and $200,000 per spot fix" could be made.
While McCullum admitted under cross-examination he had not said no straight away after the initial approach, he eventually went to anti-corruption authorities with information about Cairns in 2011.
McCullum said a second approach was made by telephone about a week later in which Cairns asked him if he had "changed his mind". McCullum told the jury he had said he was not interested.
It is alleged that Cairns and co-defendant Andrew Fitch-Holland, a barrister friend who had given him legal advice, asked a witness to give false evidence in the libel case.
Fitch-Holland, of Burton Road, Manchester, also denies perverting the course of justice at the ongoing trial.