Bilal Asif: Under-review bowler gets Pakistan Test call-up
Last updated on .From the section Cricket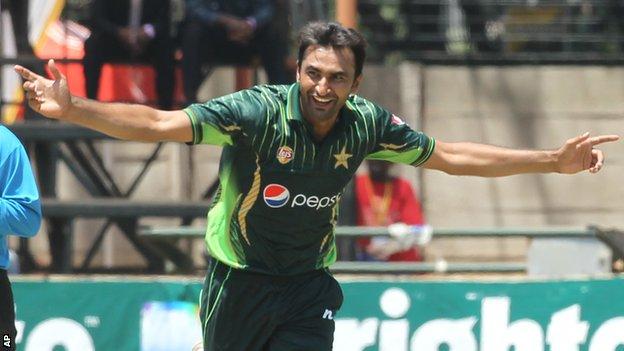 Off-spinner Bilal Asif has been added to Pakistan's squad for the second Test against England - despite his suspect bowling action being under review.
Asif was reported for a suspect action following Pakistan's third one-day match against Zimbabwe this month.
He will join up with the squad in the United Arab Emirates after completing tests on his action in Chennai.
The outcome of the tests to determine the degree of straightening in Bilal's bowling arm will not be known until after the second Test has begun, and ICC rules stipulate no player is banned until investigations are complete.
Meanwhile batsman Azhar Ali is a doubt for the Test on Thursday after flying home following the death of his mother-in-law.
Ali missed the Abu Dhabi game because of injury. He was Pakistan's leading run scorer the last time the teams met in the UAE three years ago.
Off-spinners under ICC scrutiny

Marlon Samuels
West Indies
Reported in November 2013; cleared in December (but banned from bowling quicker deliveries); reported again in October 2015

Shane Shillingford

West Indies

Reported in November 2013; suspended in December; cleared to return in March 2014 (but banned from bowling doosra)

Sachithra Senanayake
Sri Lanka
Reported in June 2014; suspended in July; cleared to return in December

Kane Williamson

New Zealand

Reported in June 2014; suspended in July; cleared to return in December

Saeed Ajmal
Pakistan
Reported in August 2014; suspended in September; cleared to return in February 2015

Prosper Utseya

Zimbabwe

Reported in August 2014; suspended in October; cleared to bowl seam in December (but banned from bowling off-spin)

Sohag Gazi
Bangladesh
Reported in August 2014; suspended in October; cleared to return in February 2015

Malcolm Waller

Zimbabwe

Reported in November 2014; suspended in December; cleared to return in August 2015

Mohammad Hafeez
Pakistan
Reported in November 2014; suspended in December; cleared to return in April 2015; reported again in June; banned for 12 months in July

Bilal Asif

Pakistan

Reported in October 2015