Nic Pothas: County cricket beckons for Guernsey's best
Last updated on .From the section Cricket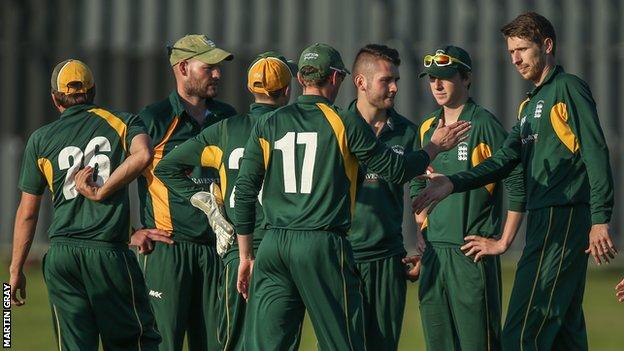 Outgoing Guernsey director of cricket Nic Pothas says he expects a number of the island's best young players to go on and play county cricket.
And he said he will be taking a role with an as yet unnamed county soon.
"Hopefully I've given some cricketers some opportunities where they can kick on and maybe go and realise a career in professional cricket," he continued.
Pothas believes that the key to the island side improving is for more of the best young players to be playing in the UK mainland.
Currently the likes of Tom Nightingale, Will Fazackerly and Matt Stokes play club cricket in the south of England, while Guernsey will play in the Sussex Cricket League next year.
"If you want the national team to continue to improve and continue to go up the rungs, that just has to happen, there just aren't enough people and there aren't enough different environments and variables that will educate cricketers to get better in Guernsey," Pothas added.
"We play on the same two fields, the wickets behave the same, you play against same cricketers week in week out, you're just not going to move on.
"That's the reason these 21-year-olds have come on so quickly, it's because they've matured, they may be 21, but they have the mentality of a 24 or 25-year-old because they play off island."