Jersey target World Cricket League Division Five title
Last updated on .From the section Cricket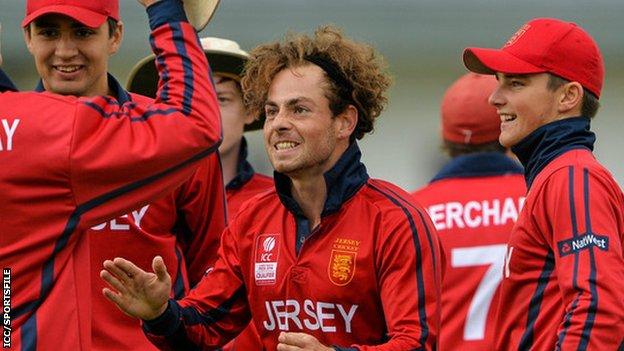 Jersey will be aiming to win World Cricket League Division Five next May, according to the head of the Jersey Cricket Board.
"We'll be looking for promotion from Division Five, no question about that," Chris Minty told BBC Radio Jersey.
"If you go back through the World Cricket League tournaments, the home teams have always done quite well."
Jersey have twice reached the final of Division Five, winning the title in 2014, and made the World Twenty20 Global Qualifying tournament earlier this year.
And Minty says home advantage is absolutely crucial for his side, who have previously struggled abroad.
"I think if we'd played Division Four here in Jersey we'd have been in a different position, so that shows the difference being closer to home makes," he said.
"There's no substitute on playing where you're familiar. We've been to countries like Nepal and Tanzania and played on surfaces that are completely alien to us, so playing on a ground that we know is going to be a great help to us.
"Depending on where the tournaments are played I think we'd be quite comfortable in Division Three or Four, especially with our young side.
"If we keep them together for four or five years we're going to have a really good side."