Bilal Asif: Pakistan off-spinner's bowling action cleared by ICC
Last updated on .From the section Cricket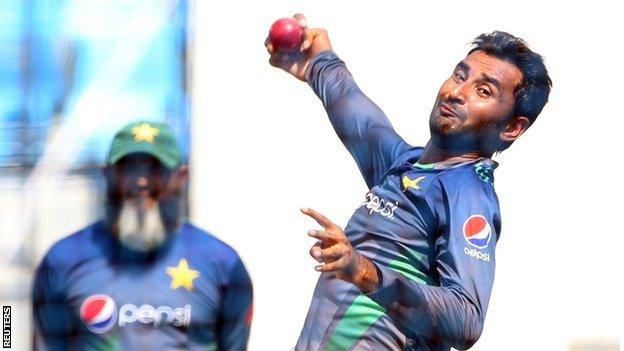 Pakistan off-spinner Bilal Asif can continue his international career after the International Cricket Council found his bowling action to be legal.
The 30-year-old was reported for a suspect action following his second one-day international appearance against Zimbabwe earlier this month.
Asif was recently called up to the Pakistan Test squad but did not play in the second Test win against England.
Uncapped in Tests, he has only appeared in those two ODIs for his country.
However, pace bowler Imran Khan's injury could mean a Test debut in the final Test at Sharjah on Sunday if Pakistan select him as a third front-line spinner.
Asif's action was independently tested in Chennai, India, but all of his deliveries were found to be within the 15-degree level of elbow extension permitted by the ICC.
Off-spinners under ICC scrutiny

Marlon Samuels
West Indies
Reported in November 2013; cleared in December (but banned from bowling quicker deliveries); reported again in October 2015

Shane Shillingford

West Indies

Reported in November 2013; suspended in December; cleared to return in March 2014 (but banned from bowling doosra)

Sachithra Senanayake
Sri Lanka
Reported in June 2014; suspended in July; cleared to return in December

Kane Williamson

New Zealand

Reported in June 2014; suspended in July; cleared to return in December

Saeed Ajmal
Pakistan
Reported in August 2014; suspended in September; cleared to return in February 2015

Prosper Utseya

Zimbabwe

Reported in August 2014; suspended in October; cleared to bowl seam in December (but banned from bowling off-spin)

Sohag Gazi
Bangladesh
Reported in August 2014; suspended in October; cleared to return in February 2015

Malcolm Waller

Zimbabwe

Reported in November 2014; suspended in December; cleared to return in August 2015

Mohammad Hafeez
Pakistan
Reported in November 2014; suspended in December; cleared to return in April 2015; reported again in June; banned for 12 months in July

Bilal Asif

Pakistan

Reported in October 2015; cleared in same month