Tom Fell: Worcestershire batsman fit to play after testicular cancer
Last updated on .From the section Cricket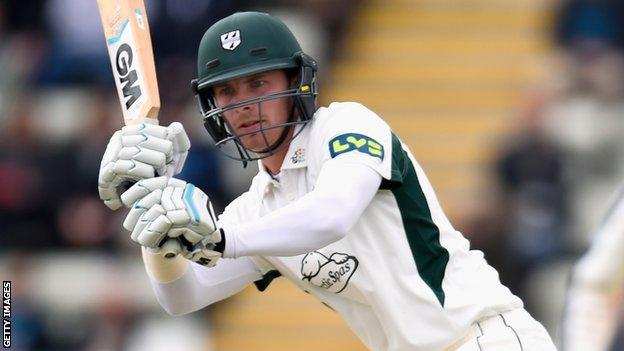 Worcestershire batsman Tom Fell says he has been given the go-ahead to play next season after revealing he has had surgery for testicular cancer.
Fell, who was the county's top scorer in the County Championship in 2015, had an operation in October after a tumour was discovered.
"I got the results on 1 November and they broke the good news that it hadn't spread," the 22-year-old said.
"It was really the best news that I could have hoped for."
Fell's progress
Educated at Oakham School in Leicestershire - the same place as England bowler Stuart Broad
Made 64 in his second first-class match against Australia at New Road in 2013
Struck 124 - his maiden century - against Leicestershire and 133 against Gloucestershire in 2014
Hit three more hundreds in 2015 and totalled 1084 runs in Championship Division One, the youngest player in the country to pass 1000 runs
Signed
a new three-year contract
with Worcestershire in September 2015
Fell is now back in training at New Road and is set to spend part of the winter in Australia playing grade cricket in Perth.
"I was quite lucky. I was fairly stupid in the fact I didn't get it checked straight away," Fell said.
"When they did analyse the tumour, it was fairly big at the stage they operated.
"I think if I had left it any longer and I had gone to Australia without being checked, who knows how bad it could have been.
"Because I felt no different, that is why I didn't bother to get it checked sooner than I did."
Fell has chosen not to follow up his operation with any further treatment on the advice of his specialist.
Testicular cancer - facts
Usually affects men between the ages of 15 and 49
It is relatively uncommon, accounting for 1% of all cancers that occur in men
It is one of the most treatable types of cancer - more than 96% of men with early-stage testicular cancer will be completely cured
NHS website has
more details
"I was recommended by the professor I saw that if you can avoid chemotherapy it is definitely something I should do - especially as a sportsman - as the side effects and consequences can be quite severe," he said.
"It is something I want to avoid. I've been told there is a 65% chance it is all clear and a 35% chance it can come back and if it comes back, it will most likely be in the next three months and then I would have to go through three cycles of chemotherapy as opposed to two now.
"I've got back into training which has been a bit of a shock to the system this week but it's great to be back - playing cricket is the best thing about it."
More on this story and others around Herefordshire and Worcestershire.