Ashley Wright: Guernsey appoint new head of cricket
Last updated on .From the section Cricket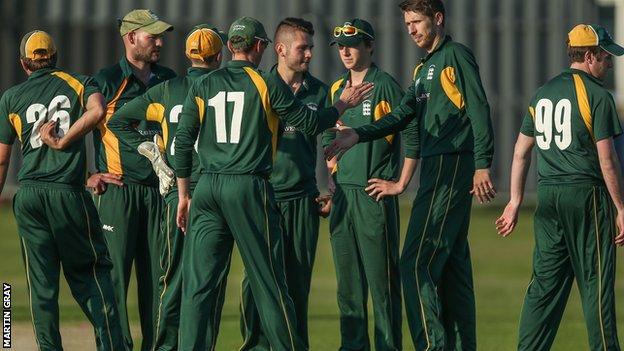 Guernsey have appointed former Leicestershire player Ashley Wright as their new head of cricket.
Wright, who has also coached youngsters for Sussex as well as in India and Australia, will start work in January.
Former Guernsey head coach Andy Cornford will return as performance director and will be responsible for the national team and elite players.
Guernsey won promotion from World Cricket League Division Six earlier this year and the duo's first competition will be the World Cricket League Division Five tournament in Jersey next May.
The island will also be sending a team to play in the Sussex County League next year for the first time.
"I am both honoured and excited to get the chance to work with Guernsey cricket. We have a great team with some very talented young players coming through," said Wright, whose brother is England international Luke.
"I am looking forward to working with the national team and to continue developing the current pathways.
"I hope that both I and Andy can help to create opportunities for young cricketers while having success at the top level."
Cornford commented: "I've been away for three years but kept in touch with how things have progressed under Nic Pothas during that time.
"With Ash Wright coming in as head of cricket I think he and I can make a real difference and help further develop both the national team and the standards of our younger players."