England can dominate South Africa - Jonathan Agnew

By Jonathan Agnew
BBC cricket correspondent
Last updated on .From the section Cricket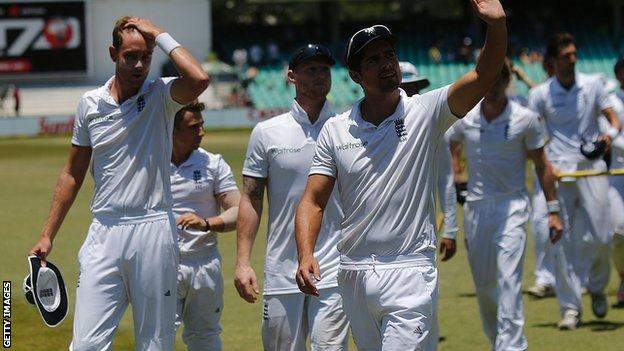 England's huge 241-run win over South Africa in the first Test in Durban was partly rooted in the respective build-ups of the two sides.
While England were taking on Pakistan in the UAE, South Africa were touring India - both in conditions different to Kingsmead.
But whereas England were able to move on from their 2-0 defeat, to put it in a box and treat it as irrelevant to this series, South Africa's 3-0 loss continues to hang over their heads.
Alastair Cook's tourists look as though they are enjoying their cricket and are playing it in a good spirit. I was very impressed with their performance. I thought before this series began that they could come here and win, and nothing in Durban has persuaded me to think otherwise.
If we consider the issues that have surrounded this England team for a while, they are slowly being addressed and it can be said that they are moving towards their best XI.
The fragile nature of the middle order has been boosted by the inclusions of James Taylor and Nick Compton.
Taylor has long impressed in the one-day side and showed his worth to the Test team when he was recalled for the third match against Pakistan, while Compton played really well on his return after a two-year absence.
This match in Durban, where conditions favoured the bowlers for long periods, suited the type of scenario in which Compton likes to bat.
We will see situations when he has to adapt. If England are 150-1 when he arrives at the crease, can Compton play with more freedom? Test cricket is about playing the situation, so we will learn if he can be more positive.
In the bowling department, Moeen Ali came back from a tough tour of the UAE with seven wickets to earn the man of the match award.
His off-spin, which has always been a work in progress, is getting better and better. For him to get 3-47 in the second innings - including the key scalp of AB de Villiers - will give him huge confidence.
Spinners are under pressure to get wickets late in the game, when the pitch is deteriorating and conditions are in their favour. Moeen has felt that pressure in the past, but he rose to the challenge here. He should now know that he is capable.
For Steven Finn, the remarkable journey from being "unselectable" to a potent Test-match weapon continues. Once again, he bowled very well here. He is a real bonus for Cook to have in the side - he simply takes wickets using the unexpected bounce generated by his height.
The two issues still outstanding are the wicketkeeper and the opening batsman.
Jonny Bairstow is less of a concern because he batted beautifully - timing the ball and scoring more freely than anyone else in the match - and he made up for the missed stumping of De Villiers by stumping Temba Bavuma on day five.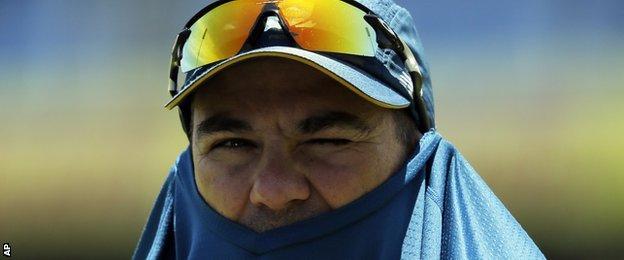 Bairstow is a good man to have in the side. He is very upbeat and full of life. He would have probably had a pretty sleepless night thinking about the De Villiers miss, but he took the first opportunity that came his way the next morning.
The challenge for him is to continue scoring runs and to eradicate the mistakes from his keeping - he only has to look across the dressing room to see the spectre of Jos Buttler looming over his place.
As for the opening spot, the second Test in Cape Town is a big one for Alex Hales, who will know he needs to perform better than he did on his debut in Durban.
Before this match, we thought Hales' weaknesses would be a loose technique outside off stump and a tendency to play a needless big shot. His dismissals highlighted both.
In the first innings, he flashed at Dale Steyn to give an edge and, in the second, he played nicely before playing a crazy big shot to be caught at long-on.
Come Cape Town, England will want to see that he is at least learning from those mistakes.
These, though, are small problems for England compared to those faced by South Africa.
Quite simply, the Proteas look as though they are hating their cricket. There was no leadership from Hashim Amla. When things are going badly, the captain has to galvanise his team, to inject some spirit and fight. There was none at all.
South Africa's Test results in 2015

Date

Match

Result

2-6 January, Cape Town

Third Test v West Indies

SA won by eight wickets

21-25 July, Chittagong

First Test v Bangladesh

Match drawn

30 July-3 August, Dhaka

Second Test v Bangladesh

Match drawn

5-7 November, Mohali

First Test v India

India won by 108 runs

14-18 November, Bangalore

Second Test v India

Match drawn

25-27 November, Nagpur

Third Test v India

India won by 124 runs

3-7 December, Delhi

Fourth Test v India

India won by 337 runs

26-30 December, Durban

First Test v England

England won by 241 runs
South Africa are still ranked as the world's number one, but they are a team in decline.
If Steyn does miss the second Test through injury, then I wonder how they are going to bowl England out. They have so many batsmen out of form and their two stars - Amla and De Villiers - have been burdened with the captaincy and wicketkeeping respectively.
There are political issues in their selection process which makes things even more difficult but, even then, parts of their performance were pretty hapless. Look at the way they batted from number five down. Bavuma was stumped for a duck trying to save a Test - what is going on there?
South Africa pretty much came straight from India and into the fire of this series. There was little time for change and even less before the second Test. It will be very difficult for them to turn things around.
Therefore, England have an excellent opportunity to win this series quite comfortably, so long as they do not succumb to their own inconsistencies.
Jonathan Agnew was talking to BBC Sport's Stephan Shemilt