World Twenty20 2016: Runs, money and power - how T20 has changed the world
By Stephan Shemilt & James Gheerbrant
BBC Sport
Last updated on .From the section Cricket69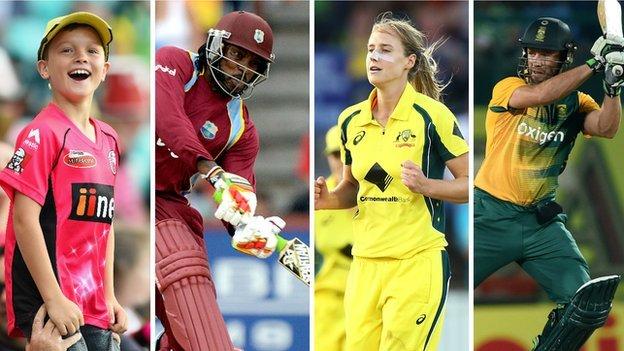 World Twenty20
Host nation:
India
Dates:
8 March - 3 April
Coverage:
Live Test Match Special commentary on all England games and selected other men's games and England women's matches. Live in-game highlights during all games. Live text commentary on all matches from Super 10 stage onwards.
The world was a very different place on 13 June 2003.
Tony Blair was prime minister, R Kelly was number one in the charts with Ignition, and no-one had heard of Twitter or selfies.
In cricket, England hadn't held the Ashes for 14 years, DRS and the Dilscoop had yet to be invented, and Alastair Cook had only just made his Essex debut.
But the game was about to change forever, as 10 English counties played each other in five 20-over games in a new domestic competition. Twenty20 was born.
Thirteen years on, as the sixth World Twenty20 explodes on to the global stage once again, cricket has been transformed beyond recognition. This is the story of how T20 changed the world.
'There are no limits'
While cricketers are undoubtedly fitter, stronger and more athletic than they have ever been, it can be argued this isn't a direct result of T20.
Yes, the modern player spends more time in the gym, pays more attention to what goes into their body and is more likely to be rested, but the same can be said for any professional athlete. In that sense, cricket has simply moved with the rest of the sporting world.
"Batsmen don't hit it further and the players are still of a similar standard," England all-rounder Stuart Broad told BBC Sport. "For example, the likes of Ian Botham and Viv Richards would have been ideally suited to T20.
"Fielding and fitness are the things that have taken a step up, but bowlers and batsmen are still on a par with where they were."
The biggest impact of T20 cricket has come on the mindset of the modern player. What was once thought to be impossible is now not only probable, but even routine.
Scoring at a rate of more than 10 an over to win a game, being confident enough to bowl six different varieties of slower ball, a batsman scooping a 90mph delivery over his own head and fielders jumping off the field and back on again to take spectacular boundary catches. Things that seemed outrageous 10 years ago are now commonplace.
"T20 cricket has given players a belief in what they can do," added Broad. "They have seen themselves catch screamers and hit balls out of the ground. There's no fear of failure. It's opened players' minds to there being no limits."
Runs, runs, runs
That confidence has permeated into other forms of the game, with batting in particular taken to a new level in Test and one-day international cricket.
Since the first professional T20 was played in 2003, the record for the fastest century and half-century in both Test and ODIs has been broken, and we have also seen:
Five of the 10 fastest Test centuries of all time

All six of the fastest Test half-centuries

Five of the six fastest Test double centuries

Six of the fastest 10 ODI half-centuries

An incredible 26 of the 30 fastest ODI centuries
But T20 hasn't only inspired sporadic feats of hitting, it has increased the rate of run scoring and six-hitting in the two longer formats.
"Batsmen today have been brought up with T20 cricket," said former England captain Michael Vaughan. "It's just become a matter of fact that you have to be able to hit the ball into the stands, whereas you go back 15, 20 years, the game was played pretty much on the floor.
"Players don't worry about having fielders on the boundary anymore. They just believe they can get the ball into the stands."
Show me the money
It's not just on the field that numbers have soared into the stratosphere - T20 has also ushered in an era of unprecedented riches.
In a sport that takes as much as 80% of its global revenue from broadcasting rights, T20's short, TV-friendly format has proved a recipe for financial success - nowhere more so than in the cricket-mad market of India.
Last season's Indian Premier League generated a total revenue of 26.5bn rupees (£276m) and delivered an 11bn rupee (£120m) boost to the Indian economy - figures that dwarf the economics of the first-class game.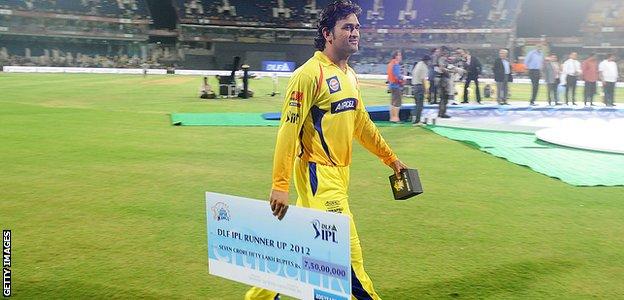 "The IPL has significantly transformed the financial landscape of Indian cricket. That's undeniable," said TR Vivek, an Indian journalist who co-authored the book IPL: Cricket and Commerce.
But crucially, the money generated by these lucrative T20 competitions is not simply creamed off by mega-rich franchise owners - in most cases it flows directly back into the coffers of the national cricket boards, which reinvest it in the grassroots game.
"The IPL accounts for about 40% of the Board of Control for Cricket in India's revenues," Vivek explained.
"It's certainly had a positive impact on the cricket ecosystem. The standards of cricket infrastructure have gone up significantly. Ranchi - the home town of India cricketer MS Dhoni - has a brand new stadium which would not have been imaginable 10 years ago."
At the forefront of this financial revolution are the players themselves. The biggest stars, such as Dhoni and Virat Kohli, will command salaries of up to 125m rupees (£1.3m) in the forthcoming IPL. But it is arguably lower down the ladder that the change has been most significant.
"Life for the average first-class cricketer has significantly improved because of the forces of commerce," Vivek said.
"Earlier, first-class cricketers also needed to be working somewhere - usually they would have a job at one of the state-run companies. Now cricketers can afford to be professionals."
Wonderful for women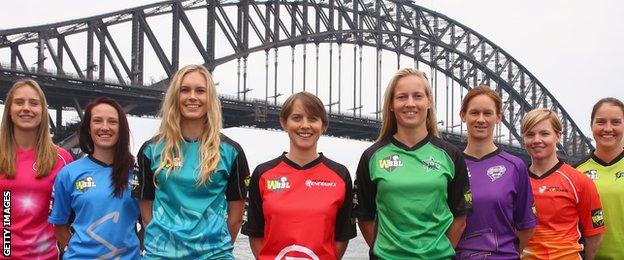 The impact of T20 on the style of the men's game and the players who participate has been huge, but the consequences for the women's game have arguably been even bigger.
T20 has become the dominant form in the women's game at both domestic and international level, thanks in part to the short-form product that can be played as a double-header with men's matches, bringing valuable exposure to both the crowd in attendance and those watching on TV.
"Double-headers bring a captive audience," said former England batter Ebony Rainford-Brent. "People who didn't even know that women's teams existed got women's cricket on their radar. Awareness came first, followed by success."
That success has seen T20 cricket almost eradicate women's Test matches. Despite a 70-year head start, there have already been more than twice the amount of T20 internationals than Tests.
While T20 cricket has created an international product worthy enough for national governing bodies to hand out central contracts, the domestic game is also stepping up in terms of competition, quality and earning potential.
The inaugural Women's Big Bash League in Australia successfully mirrored the men's tournament, while the summer of 2016 will see the English women's game beat the men to a franchise T20 league.
"It's a brand that can go on TV, creating opportunities for those that play. Women can be fully professional," said Rainford-Brent. "These opportunities would not have existed 10 years ago."
New world order
All these changes add up to nothing less than a sporting revolution - one that has had a profound effect on the nations that play the game.
For India, T20's first world champions in 2007 and its number one-ranked team, the rise of this new, super-charged form of the game has reflected the changing mood of a nation.
"In a way, the brashness of T20 cricket has coincided with the emergence of a more confident India," says Rahul Tandon, a BBC journalist based in Kolkata.
"India today is much more sure of itself as an economic superpower. Likewise, the advent of T20 is reflected in someone like Virat Kohli: a brash, confident young man."
For other countries, T20 has been rather more of a mixed blessing. West Indies have had some success in the format - winning the World T20 in 2012 - but this has come at the expense of Test cricket in the Caribbean.
Once West Indies were the dominant force in the five-day game - famously going 15 years without losing a Test series from 1980-95. Now, with the best players preferring to play in T20 competitions around the globe, the team - ranked eighth in Tests - appears further than ever from touching those heights, and crowds are at an all-time low.
"The interest has gone," says veteran West Indian cricket journalist Tony Cozier.
"The public was passionate about Test cricket - it was about small islands showing their worth at international level, islands which have been split over the past 50 years coming together. That kind of passion is now diminishing."
T20 has also offered the game's developing nations a better chance than ever to shock the big boys and put themselves on the map.
The Netherlands have twice beaten England at the World T20, while other shocks have seen Ireland beat Bangladesh in 2007 and Ireland themselves stunned by Oman earlier this week.
"There's more chance of a shock," Broad said. "The smaller you make the game, anyone can win. You can't relax too much as a big team.
"That makes it exciting. Look at Japan beating South Africa in the Rugby World Cup. That probably got the most amount of coverage, it was brilliant. You want underdogs winning in sport."
Could this tournament produce an upset on that scale? That is impossible to predict. One thing is certain though: for better or worse, T20 has forever changed the landscape of world cricket.