County cricket: ECB changes to schedule for 2017 'clear and strong'
Last updated on .From the section Cricket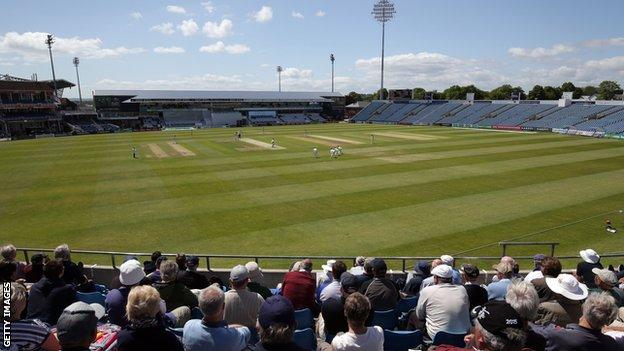 From 2017, the English summer cricket schedule is to change again.
Less County Championship cricket, a change of numbers in the two-division structure, a more attractive school summer holidays time slot for the T20 Blast and a Lord's one-day knockout final in July are the key outcomes.
The aim is to ensure that cricket retains its popularity beyond the time when the current ageing generation which watches Championship cricket has gone - by making it more attractive to the supporters of the future.
View from the commentary box
BBC Sport's county cricket expert Kevin Howells
"As someone who earns a lot of his living watching Championship cricket, it's expected that I would fight tooth and nail for it to remain totally unchanged. I can't do that, no matter how much good people feel angry about the reduction in games.
"The reason is simple. There is too much cricket being played and, despite the best efforts to develop a more user friendly 'appointment to view' schedule, we have still been left with too many competitions all mixed up. It has felt a mess.
"The new schedule is clear and strong. Of course, for every positive, one can argue a negative. I could list things I personally would change, such as unequal games between teams in Division Two. But that misses the point of what's trying to be achieved. Over the season, the best teams will be crowned champions of their respective leagues.
"One small reservation would be to what extent the Championship might have a stop-start feel to it? There will be a decent start in April and then generally two major blocks mid-season and most importantly at the end of the summer. Until we are in that season, I reserve judgment.
"My suspicion is that the T20 schedule is county cricket's last chance to prove it can work before a city franchise is given a green light. The authorities have done what they can and are to play it when families have free time in the summer holidays but the weather remains the biggest player in its future.
"Finally, the One-Day Cup should receive much-needed profile. I'm really looking forward to a Lord's final in July, where it belongs."
Cricket's latest structure changes
Since first switching County Championship cricket to a two-tier system in 2000, there have been two nine-team divisions, in which each team played 16 times, playing all the other counties home and away.

From 2017, Division One will be reduced from nine to eight teams. Division Two will increase to 10 teams. In the top flight, all the teams will still play each other home and away, a total of 14 games. In the second tier, they will also play 14 games, meaning that each county will only play four of the other counties once during the season, creating a slight imbalance.

The T20 Blast remains untouched for now, except that from 2017 it will be played in July and August during the summer school holidays to help keep attracting the younger audience that cricket needs. A two-tier T20 Blast was rejected, at least until the next broadcast deal in 2019, when plans to change the competition to a city-based franchise tournament may also be revived.

The moving of the Royal London One-Day Cup group games to April and May and having a Lord's final in July is a throwback to the days of the old Benson and Hedges Cup. This ran from 1975 to 2002, in the days when there were two knockout competitions, both ending in Lord's finals.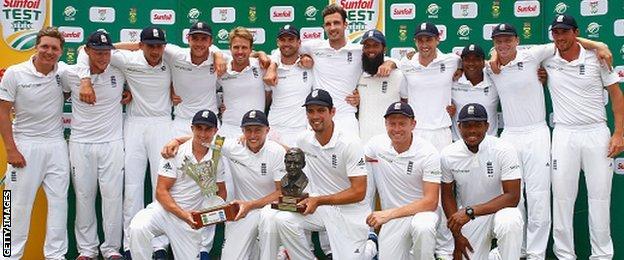 Too many format changes in old system - Strauss
ECB director of cricket Andrew Strauss, a member of the eight-strong group that devised the changes, said: "Last year a county player could change between formats as many as 24 times over the summer. Next year, that could be down to as few as six.
"This will help develop skill levels and create a better narrative to the summer. An improved structure gives us a better chance to develop our players and encourage more people to play. A successful England team helps to attract new followers."
T20 Blast should be on terrestrial TV - Vaughan
Former England captain Michael Vaughan believes the T20 Blast should be seen on terrestrial television and not shown exclusively on Sky, as is currently the arrangement.
"I really do believe that it needs to be seen by more," he told BBC Sport. "Whether it's mixed in with a pay-per-view, that's probably the way that it could go to structure it better. I just think more people need to see it."
In Short: County cricket needs a new tournament - Vaughan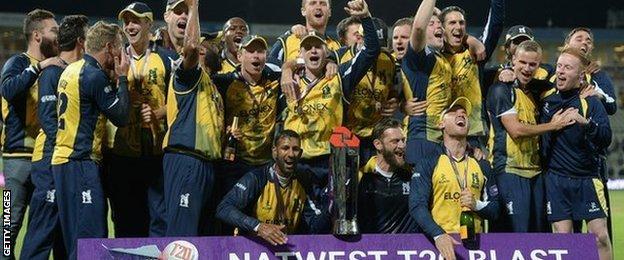 Selected feedback from the counties
Essex club statement:

"This was voted for by the ECB executive board, after consultation with the first-class counties' chief executives and chairmen. The club support the need to evolve cricket in this country. As an ECB decision, it is our responsibility to implement the new structure as successfully as we can. The club will make no further statement at this stage."

Hampshire chairman Rod Bransgrove:

"It is absolutely necessary to cut back a little bit on the amount of County Championship cricket we're playing, in order to make sufficient space for the other competitions and for rest and recovery for players. All in all, I think it's a pretty good outcome."

Lancashire club spokesperson:

"The proposed changes are a definite improvement on the schedule from a player workload perspective and playing T20 at the height of summer will undoubtedly bring commercial benefits. However, any significant commercial opportunities for the T20 competition aren't really possible until 2020."

Surrey chief executive Richard Gould:

"The changes announced demonstrate positive progress for the game as a whole, albeit not all will be happy at the reduction in Championship cricket. Pushing T20 Blast back into the summer to coincide with school holidays and the best weather will help to further increase attendances. T20 has been very successful since 2012. Attendances at Surrey grew by 25% last year alone. There is still some uncertainty on its future, but we expect a two-division format to be introduced before too long, which will allow the creation of a T20 Premier League."

Sussex chief executive Zac Toumazi:

"It's not going to suit everyone but at least we have some clarity. Clearly the immediate reaction for some would be panic, 'we must get promoted', but we are supportive. I can guarantee there are others who won't be so happy. There'll be a lot of people disappointed in the reduction of County Championship games but you have to look at the whole piece, not in isolation. T20 cricket is crucial to us."

Warwickshire chief executive Neil Snowball:

"It has been clear in recent years that some periods in the current schedule are unduly cluttered. A reduction to 14 Championship matches will allow players more recovery time between matches. We also welcome the return of the One-Day Cup to the early part of the season and are pleased that the majority of T20 matches in 2017 will be played during the school summer holidays, which will make Birmingham Bears games even more accessible."