Saturday's NI cricket results
Last updated on .From the section Cricket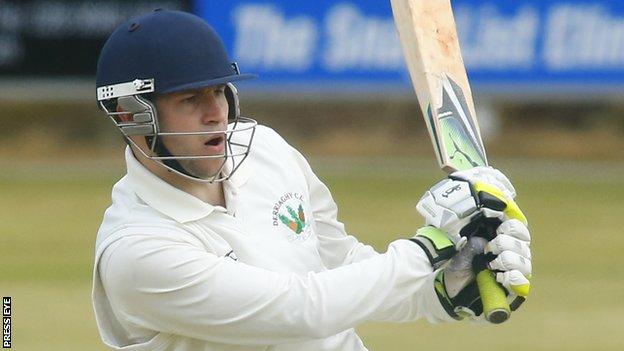 The first day of the Premier League season produced a surprise when newly-promoted Derriaghy defeated one of the expected challengers for the title CIYMS by 22 runs.
CI's latest professional recruit from South Africa, Justin Kemp, could only score a disappointing eight runs.
Ulster Bank Premier League
Derriaghy 211-6 (C Lewis 53, K Aphale 47, A Jamison 47, Z Rush 4-57); CIYMS 189 (J Thompson 67)
Derriaghy won by 22 runs
North Down 247-5 (J Molder 65, R Ewing 53); Carrickfergus 248-2 (J Holmes 118, P Botha 62 not out)
Carrickfergus won by eight wickets
CSNI 193-9 (M Amjad 61, D Agnew 43); Instonians 194-2 (A White 101 not out)
Instonians won by eight wickets
Waringstown 266-7 (G Thompson 67, J McCollum 51, C Pienaar 48); Lisburn 222 (R Rankin 79)
Waringstown won by 44 runs
Long's SuperValu NW Premiership
Coleraine 201-8 (R Silva 85, K Purewal 3-35); Strabane 134-9 (R Gallagher 28, J Gillespie 23 not out, G Cooke 3-21, R Silva 2-4)
Coleraine won by 67 runs
Drummond 101 (A McDaid 40); Brigade 105-1 (I Hussein 41 not out)
Brigade won the 40 overs match by nine wickets
Eglinton 95 (A McBrine 3-12, R McBrine 3-13) ; Donemana 98-1 (T Riddells 39 not out, G McClintock 33 not out)
Donemana won by nine wickets
Challenge Cup first round
Donacloney defeated Academy by four wickets and are now at home to Derriaghy on 14 May.
Saintfield beat Armagh by one wicket and travel to CSNI.