Cricket results in Northern Ireland
Last updated on .From the section Cricket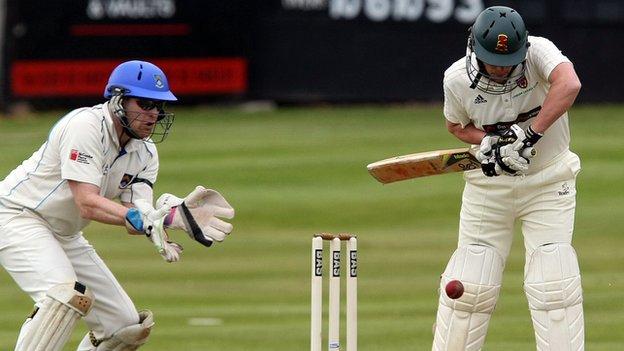 Saturday 28 May
Ulster Bank Premier League
Lisburn 90
CSNI 91-2
CSNI won by eight wickets and Lisburn suffered their second defeat
Waringstown v Derriaghy
Derriaghy 93
Waringstown 94-2 J Hall 44, J McCollum 39 no
Waringstown won their second league game by eight wickets
Carrickfergus v CIYMS
Carrickfergus 219-7 (P Botha 45, A Haggan 44)
CIYMS 190 (N Jones 54)
Carrickfergus won by 29 runs. They have won both opening games while CIYMS have lost both
North Down v Instonians
Instonians 227-8 (R Theron 46)
North Down 222-9 (D Graham 46; E Moleon 5-29)
Instonians won by five runs. Inst have won both opening games and North Down lost both.
Long's SuperValu NW Premier League
Ardmore v Drummond
Ardmore 171-4 R Jardine 100, D Curry 38
Match abandoned - rain
Eglinton v Strabane
Match abandoned
Coleraine v Bready - 40 overs
Coleraine 151-9 (R Silva 53, D Cooke 46)
Bready 148-8 (D Rankin 39, B Crumley 35, R Silva 4-34)
Bready needed 10 runs from the final over but finished three runs short
Brigade v Donemana
Donemana 118-5 (T Riddles 32, J Freylinck 31 not out)
Brigade needed 155 from 35 overs for victory (D/Lewis)
Brigade 96 (J Robinson 43; J Freylinck 3-8 from three, A McBrine 3-29)
Donemana won by 58 runs
Sunday 29 May
All-Ireland Cup
Derriaghy v Co Galway
Co Galway 77
Derriaghy 78-3
Derriaghy reach last eight with seven-wicket win
Eglinton v Waringstown
Eglinton 124
Waringstown 129-0 (J Hall 80 not out)
Waringstown won by 10 wickets
Cork County v Phoenix
Phoenix 246-9 J Pretorious 87
Cork County 106
Phoenix won by 140 runs
Rush v Dundrum
Rush 559-5 (Stephen Doheny 259 not out)
Dundrum 64
Rush, scoring a record total the cup, won by 495 runs
North County v Malahide
North County 352
Malahide 90
North County won by 262 runs
Fox Lodge v YMCA - reduced to 35 overs due to rain.
Fox Lodge 104 (R Devine 19, H Tector 3-14)
YMCA 105-2 (S Singh 46 not out)
YMCA won by eight wickets
Instonians v Pembroke
Pembroke 246
Instonians 247-4 (N Smith 107)
Instonians won by six wickets
Merrion v Carrickfergus
Merrion 300 (J Anderson 143)
Carrickfergus 196 (P Botha 107)
Merrion won by 104 runs
The Hills v CIYMS
The Hills 193
CIYMS 194-5 N Jones 60, J Kemp 58
CIYMS won by five wickets
Long's SuperValu NW Premier League
Strabane v Brigade
Brigade 294 D Hyatt 100 no, R Hunter 92
Strabane 146-8 A Gillespie 36
Brigade won by 148 runs
Donemana v Bready
Donemana 254 (A McBrine 74, A Riddles 50)
Bready 167 (D Scanlon 60 not out, A McBrine 3-50)
Donemana head the table following their 87-run victory