Friday cricket results
Last updated on .From the section Cricket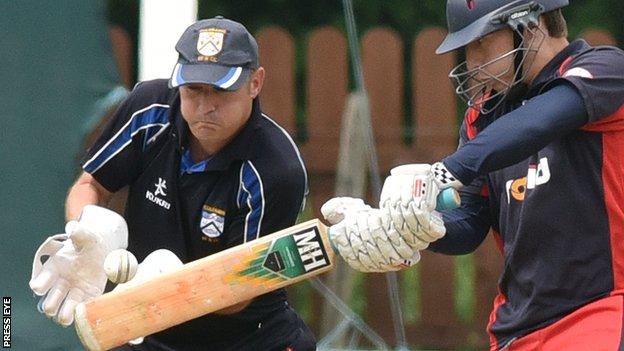 Belfast Royal Academy retained the Ulster Bank Schools' Cup but it took an undefeated 78 by Max Burton to give them a three-wicket success in the Moylena final.
Earlier, Inst's second wicket partnership between Ben Mellor and Matthew Lightbody had contributed 71 runs but the final wickets fell cheaply as the innings finished on 158 with Jack Burton taking 3-37.
In reply Academy were 40-4 and 94-6 and behind the required run rate before Burton came to the rescue.
RBAI 158 (38.1 overs) B Mellor 42, M Lightbody 32, J Burton3-37, M Wilson 2-32
BRA 159-7 (38.1 overs) M Burton 78 no, D Whitten 3-27
BRA won by seven wickets
Lagan Valley Metals Twenty20
Carrickfergus, Waringstown and Instonians all finished with four points in Section A but by the best run rate Carrickfergus take first and Waringstown second.
So the semi-finals on 17 June 17 are North Down v Waringstown and Carrickfergus v Lisburn
Section A
Carrickfergus v Instonians
Carrickfergus 173-7 I Parkhill 35
Instonians 127-6
Carrickfergus won by 46 runs
Waringstown v Derriaghy
Waringstown 173-3 J McCollum 77
Derriaghy 87-5 R Bailey 32 no
Waringstown won by 86 runs
Section B
CIYMS v North Down
CIYMS 170-2 J Matchett 93
North Down 171-3 P Malan 52, A Shields 51 no
North Down won by seven wickets and top the section
CSNI v Lisburn
Lisburn 152
CSNI 146
Lisburn won by six runs