BBC Sport - Joyce insists shot was boundary says Irish skipper Porterfield after run-out row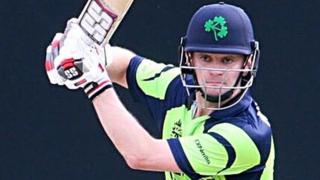 Joyce insists shot went for four - Porterfield
Ireland skipper William Porterfield says Ed Joyce is emphatic his shot went for four in the run-out row which overshadowed their one-day defeat by Afghanistan.
As Ireland chased 229-7 at Stormont, Joyce was run out for 12 by Mirwais Ashraf after thinking that he had struck a four.
Joyce's anger was clear as he made a two-fingered gesture as he walked off the pitch.
"Ed said that he saw him (the fielder) crossing the rope and flicking it back," said Porterfield.
"But the fielder has come in and said he didn't. I don't know what footage is out there but the umpires said they have to go on the fielder's word."
Afghanistan went on to complete a 79-run win as they moved 2-1 up in the series ahead of Tuesday's final game in Belfast.